Zaam Arif
Bazeecha-e-Atfal
(A Child's Playground)
September 29 – October 29, 2022
In that brief instant first read Ecce homo in Zaam Arif's exhibition, you'll either be anchored in Pontius Pilate's Behold the man, or, as I was, in Friedrich Nietzsche's, Ecce homo: How one becomes what one is — the last original work written by the German genius, turned literal madman. Whatever the case, you'll be right: just as Pilate fostered a betrayal, Nietzsche speaks of his madman, running through the square at night with a lantern shouting, "I seek God." Extend this dualism a little further, into its more philosophical darkness, and you find the subtleties and complexities that surround Arif's paintings.
A Houston-based Pakistani-American artist, Arif feels as if he should be sitting in Lacan's seminars or dragging on Galouises with Camus in Les Deux Magots. That these various references, anchors, and metaphors ground Arif's works should not be surprising. Take a moment to consider his titles, and you're immersed in a dialogue with great minds from rationalism to German post-idealism to early French existentialism and nihilism, particularly Camus, The Stranger, Sisyphus, and, perhaps, both The Mirror and The Noise of Silence; Descartes, I think, therefore I am, which you may know as cogito, ergo sum; and Nietzsche, both Ecce homo, and Amor Fati.
The irony of this complexity shouldn't be lost on viewers considering complexities surrounding contemporary life in Pakistan. Consider, for example Arif's Amor Fati – that would be love of fate – where we see a young boy, wearing a shalwar kameez, over a man lying on a bed. Books are scattered in the background, while a window opens on what seems to be a street. Painted with a chiaroscuro that is as anchored in Vermeer as it is in Hopper, Arif invites viewers into this intimate scene, this conversation on how life can be as anchored in the eternal return as it is in the possibility of difference. Given Arif's titles, I gravitate toward the latter, the dim room suggestive of resignation.
That may well be the most resonant and regular emotion Arif's works evoke: the turned head of the subject in, I think, therefore I…, or that of the figure in the third panel of Ecce homo – Behold, the Man, who gazes into the palm of his hand. Lines, lifelines, thought lines, heartlines, that strange alchemy of palmistry that is as evocative as it is unique – shared but different, singular, but shared. Hence, the universality of individuality, that, shared, identify of the man. This same figure seems to appear again, in Sisyphus, the namesake rock of his forsaken journey possibly manifest of a dim sun or an emerging moon – a sphere, our sphere, as metaphor for the passage of time.
At times, Arif invites an even subtler evocation. The Mirror, that self-reflexive surface, in which we find ourselves both sympathetic to Mersault's experiences and horrified by his actions. Yes, maman has died, but Mersault's agency, his power, his horror becomes directed at a people rather than a person. Let's not forget that in this moment, his victim is both unnamed and universal: "the Arab." This homogenization, this stereotyping of identify, is what allows us to understand who Meursault is, but not what he has done. Gaze for a moment into The Mirror, and you see a horizon, as much a perception of space as it is the marker of an event.
While there are far deeper, and far more complex, narratives that emerge from these paintings, it seems clear that in this exploration of the outsider, the forlorn, the hopeless, Arif shares dynamic and often disparate interpretations of choice's futilities: Camus' absurdity; Descartes' speculation; Nietzsche's recurrence; Arif's determinism. I use that term because Zaam has found a narrative language, influenced by these predecessors, that both challenges and invites indeterminateness, potential, and possibility from futility, ennui, and the foreshadowed. Are there deeper narratives to be seen within these metaphorical works? I can tell you, there is. Meursault? He can't be sure.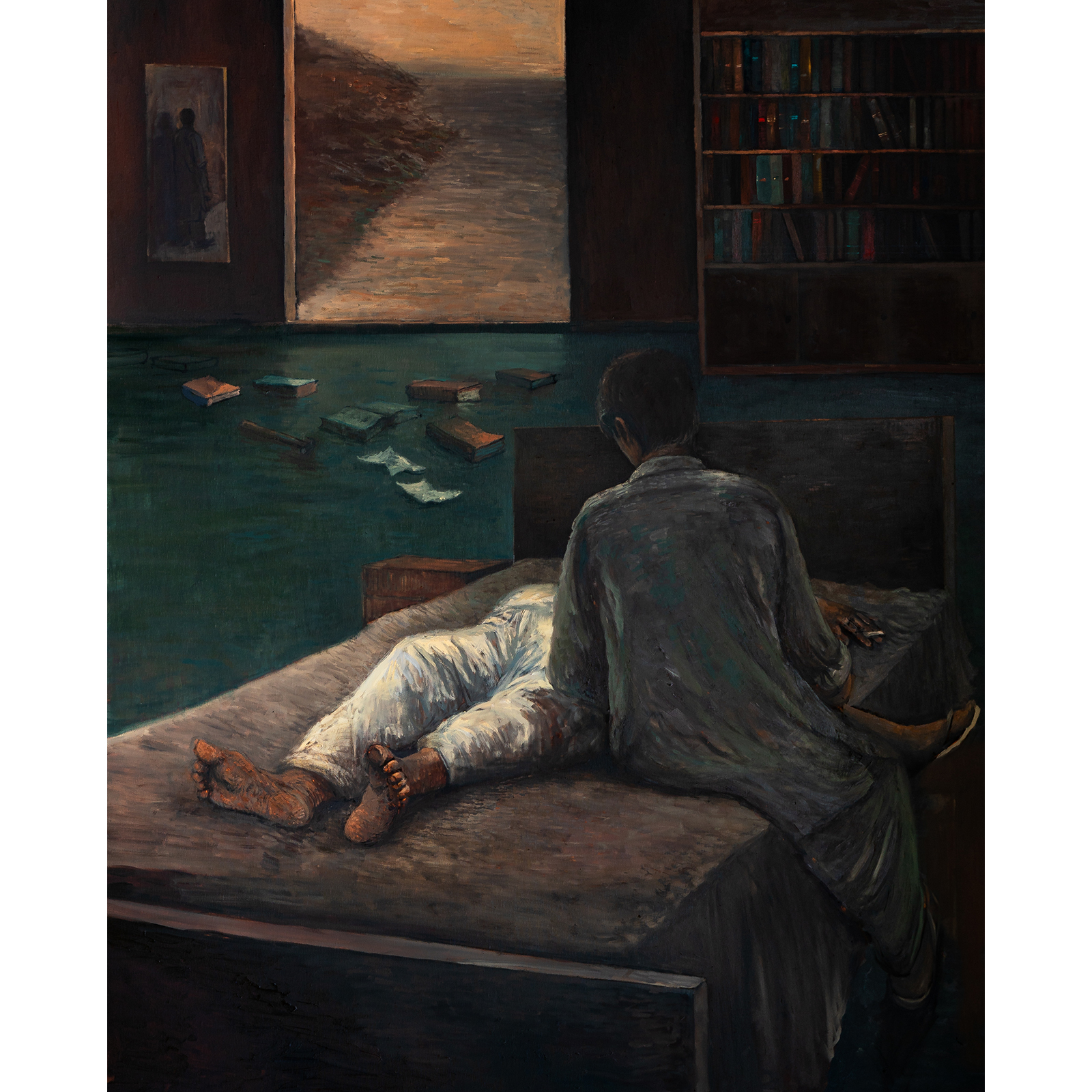 Zaam Arif
Amor Fati
60 x 48 inches
Oil on linen
2022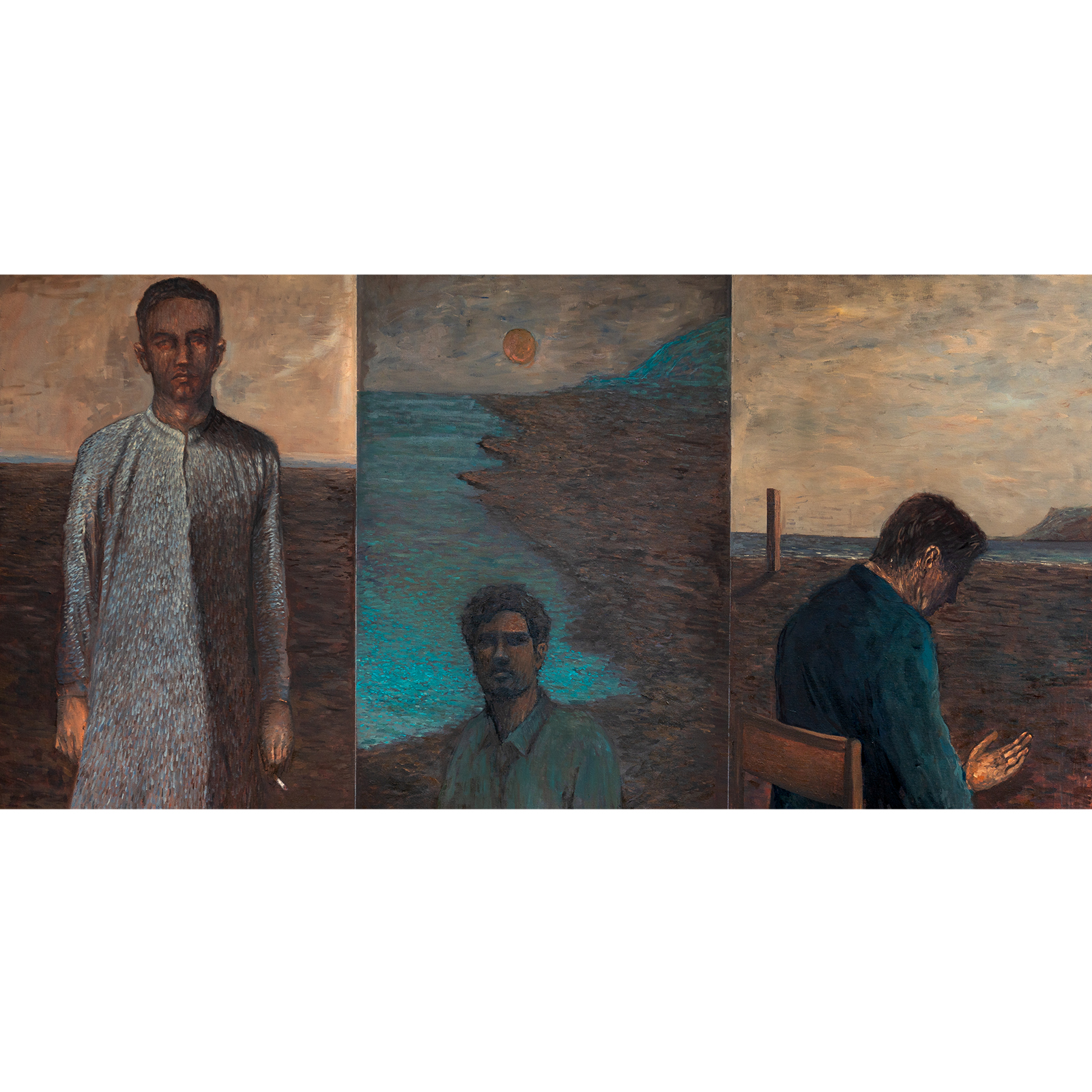 Zaam Arif
Ecce Homo – Behold the Man
72 x 36 inches
Oil on linen
2022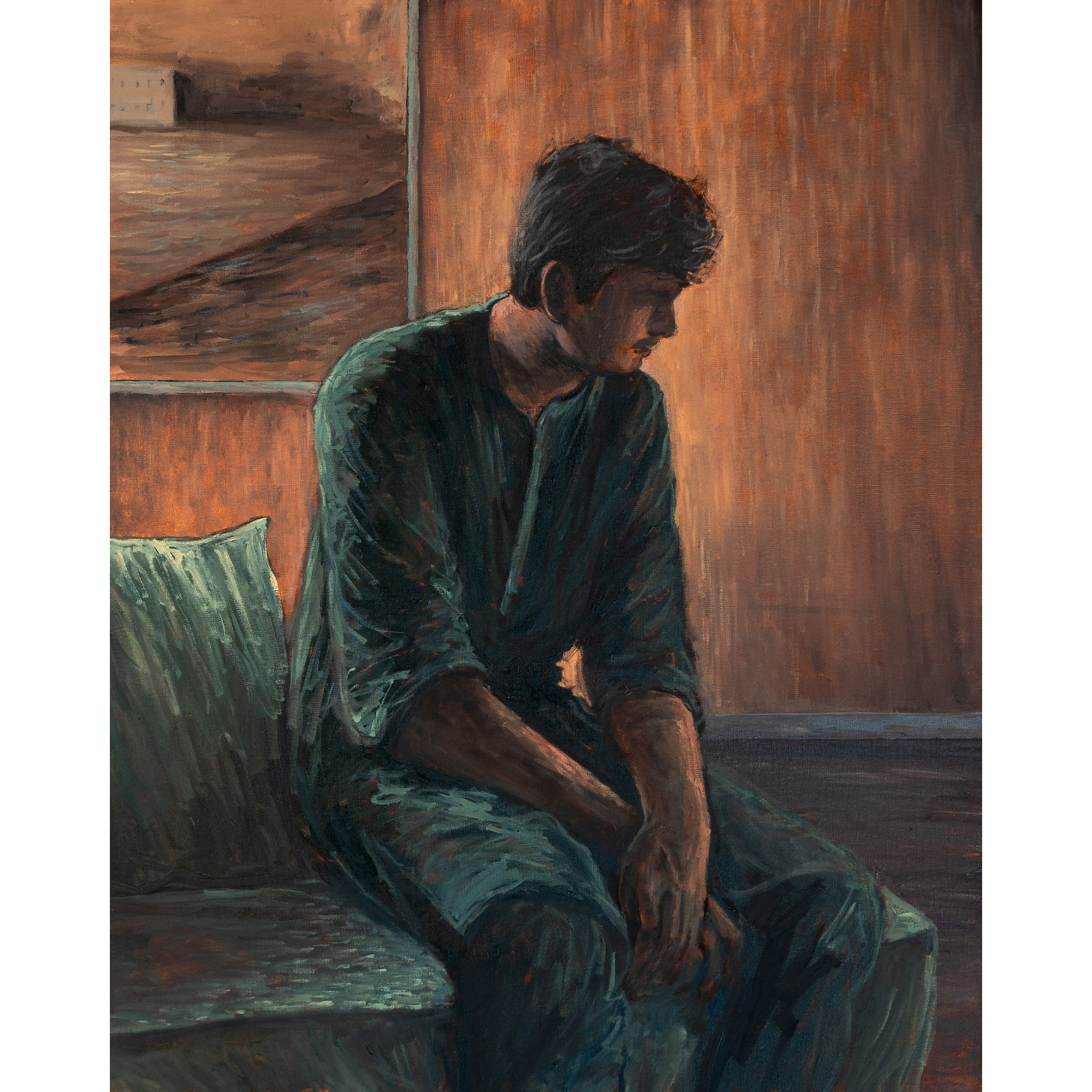 Zaam Arif
I think, therefore I am
24 x 30 inches
Oil on linen
2022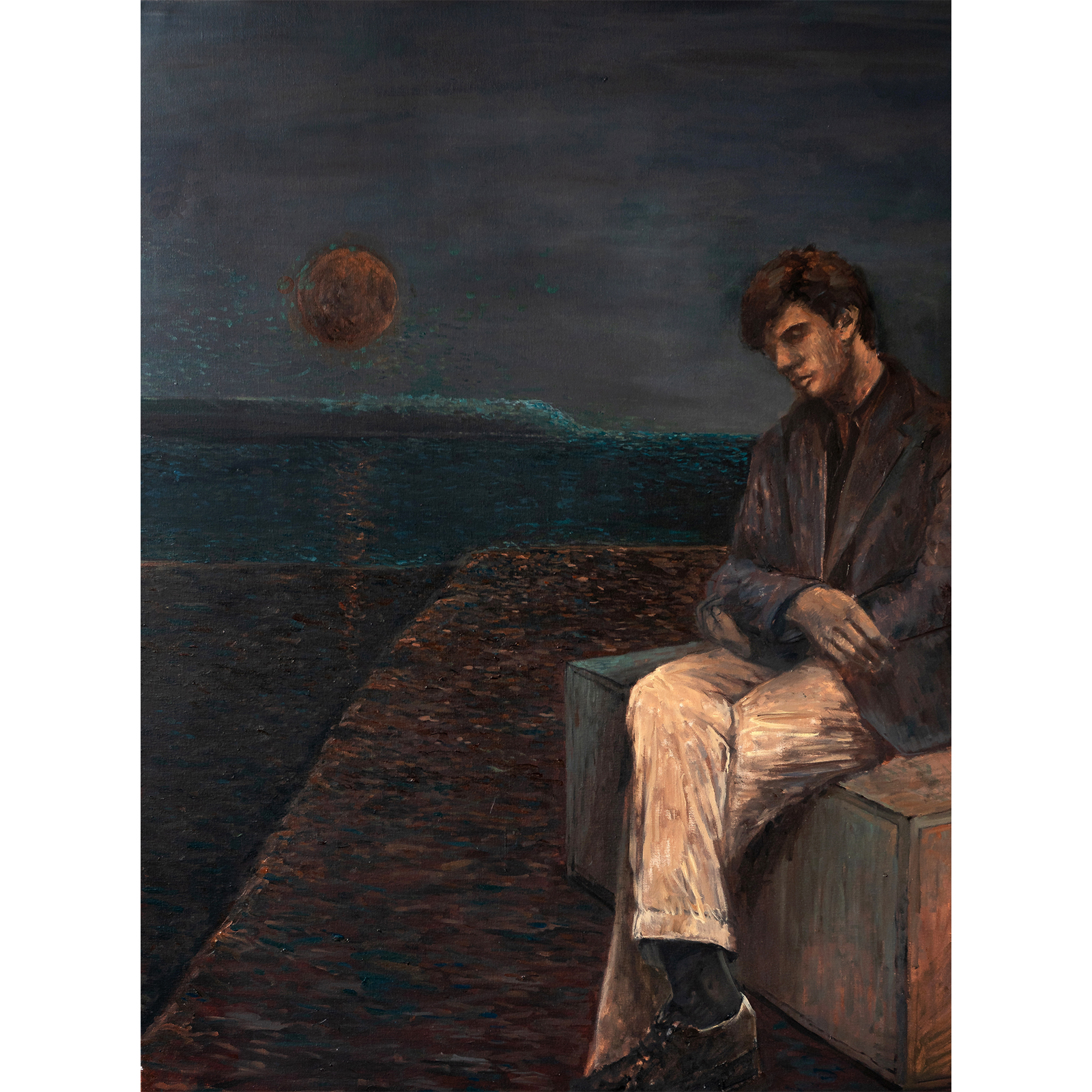 Zaam Arif
Sisyphus
36 x 48 inches
Oil on linen
2022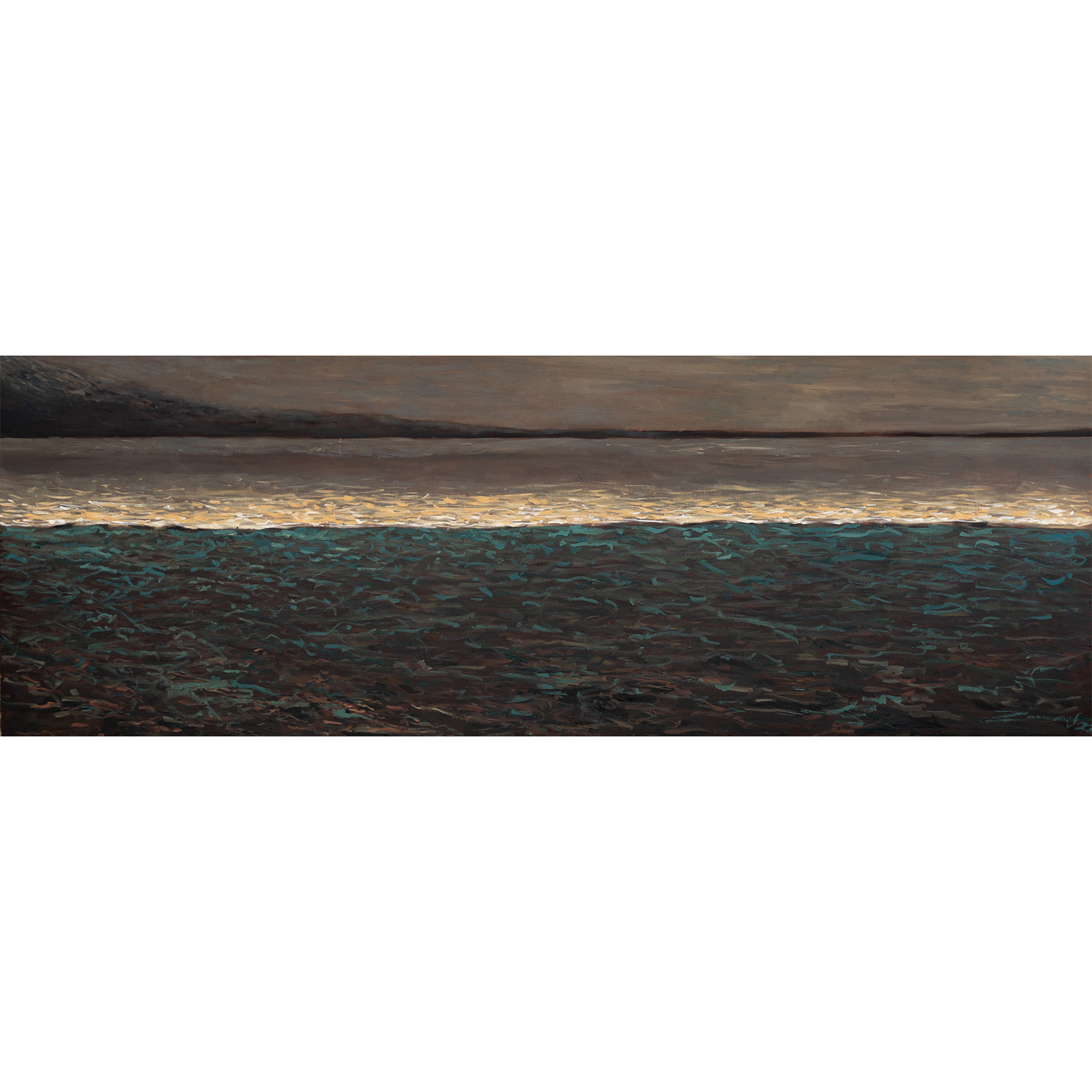 Zaam Arif
The Mirror
26.5 x 72 inches
Oil on linen
2022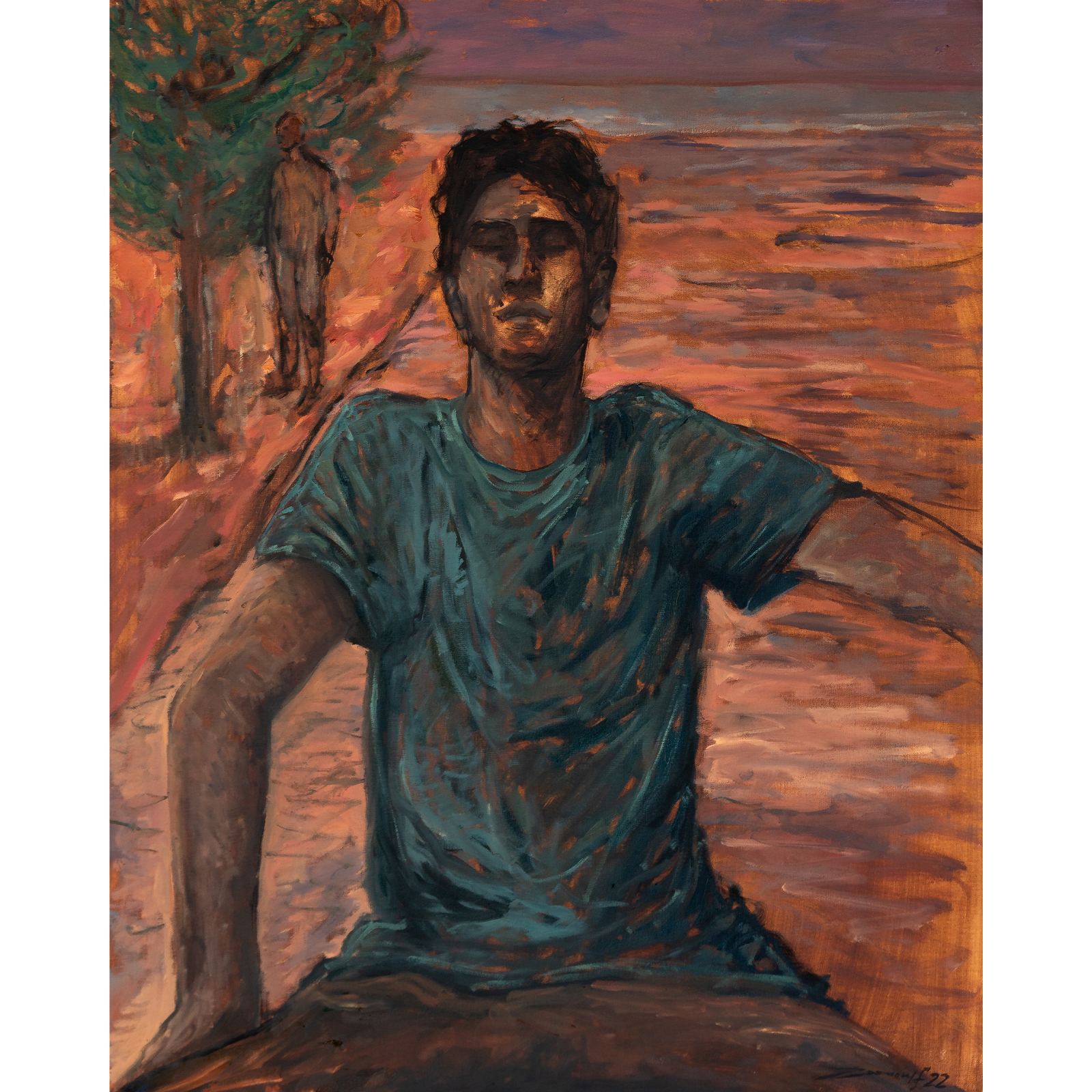 Zaam Arif
The Noise of Silence
24 x 30 inches
Oil on linen
2022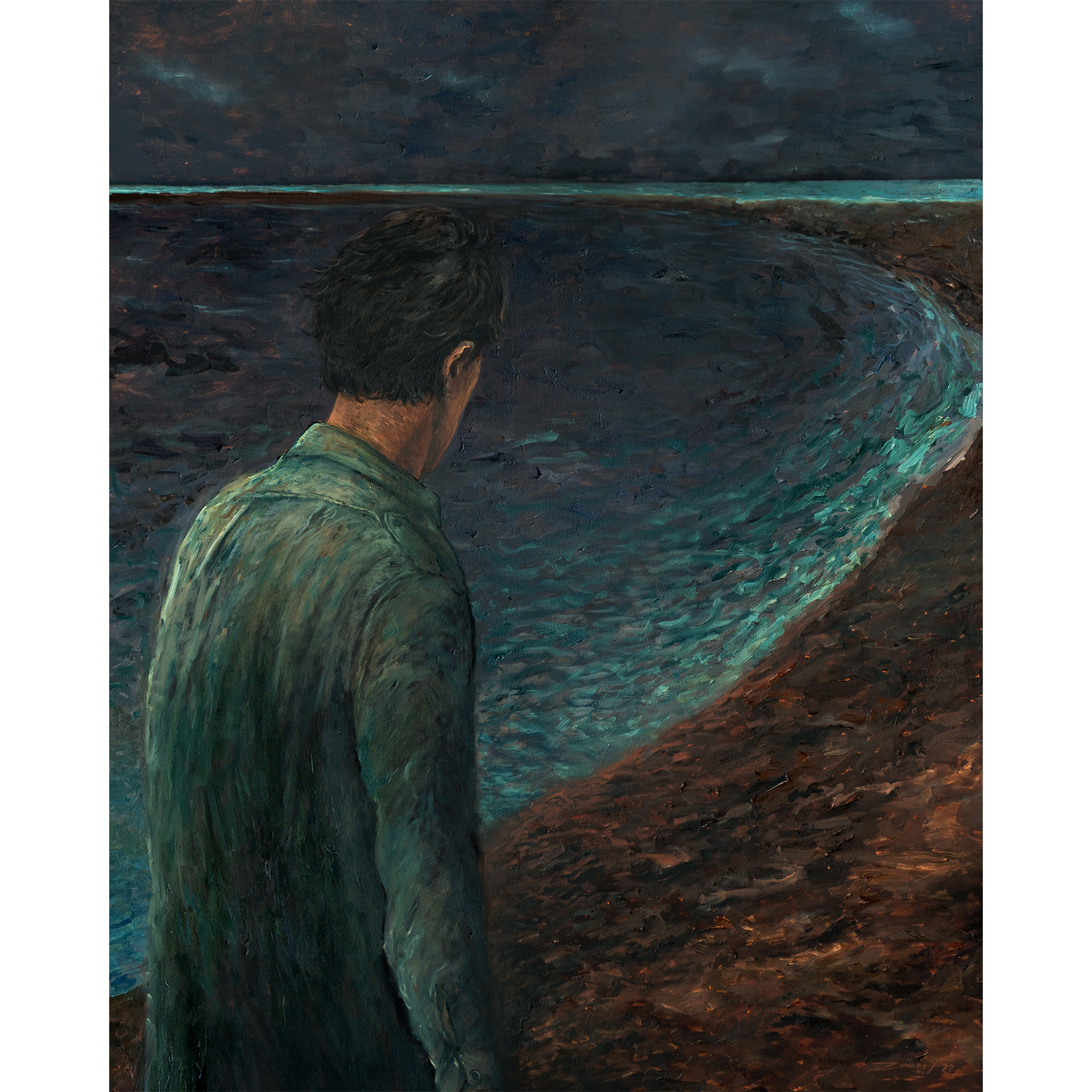 Zaam Arif
The Stranger
60 x 48 inches
Oil on linen
2022