While I wouldn't call it a predilection, humans are particularly good at—and seemingly particularly obsessed with—some form of "rolling." Adele likes to do it in the deep; Aphrodelics like to do it on chrome; the term served, in an abbreviated form, as shorthand for asserting post-9/11 patriotism; you can be a rock and not do it. Filled with potential, purpose, aims, outcomes, we roll. Such is the orbit into which Roll With It, the inaugural exhibition in Scott Miller Projects' back room, spins into and pushes forward. 
Roll With It is as much inspiration as resignation. And here, in the works of these five artists, we see both. Merrick Adams, who is as representational as he is abstract, connects one to the other, with a sly nod to Klimt; Roscoe Hall makes you feel as if you've been rolled over, that sense of optimism struck dead, literally, like it is outside the rodeo, irony and ennui impastoed over slabs of wood, all motion in stillness, all fear in silence, far more Francis Bacon than Andy Warhol. Like Hall, who handles figuration loosely but deftly, Rafael Baron considers similar issues, particularly as his people and personalities push through the foreground, polka dot tops a shared signifier standing in like plinths for the soul, undulating strokes of paint on canvas, triangular blocks of color supporting every subject tenderly in their place, hair like medieval halos, saints all, lips, breasts, nails, body, power, each a concrete statement of self. This synthesis of identity, this statement and assertion of being, continues throughout Erin LeAnn Mitchell's works. She invites us in even more closely, her works both archetype and synecdoche, the who is and the what is colliding, identity, and history meshing on her surfaces. Then, William Bradley leads us into the wide open, his assemblages pushing the void forward, moments of Tuttle, Stella, and Arp intertwining, echoing Hall's and Mitchell's and Baron's grounds, inclusions like paint strokes and arms in the very same moment. Now, pause. Roll with me. Roll with it. Roll on.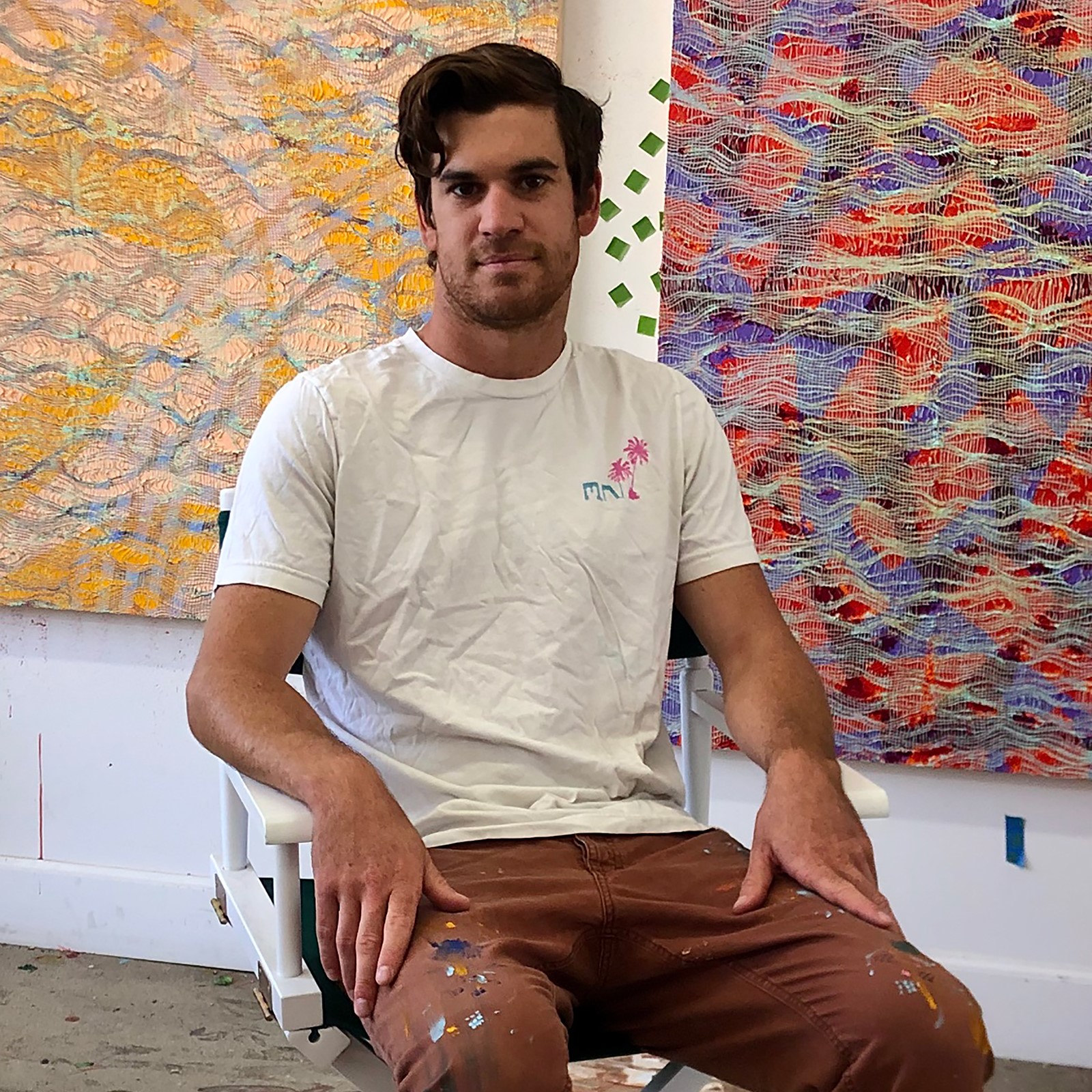 Merrick Adams
(b. 1992 Virginia Beach, Virginia)
Merrick Adams is a printmaker and painter currently living and working in Los Angeles. He holds a B.F.A., printmaking, from East Carolina University, and an M.F.A, 2020, from the Rhode Island School of Design.
As Adams explains, "My Father was a fisherman and crabber for many years, so I grew up with a very physical relationship to land and water. The process of pulling fabrics and nets from my paintings allows me to reengage with the landscape in this physical way. Focusing on process acts as a direct embodiment of this history through material. Reductive painting allows me to experience change—what's left is only the image, the map, proof of agency, power, and change. The map of reality is not reality. The abstraction is not the abstracted. The map is not the territory. Even the best maps are imperfect reductions of what they represent, a way to make thinking physical, one way to see the world. But my art maintains the rhythms and repetitions of the land, and of the sea."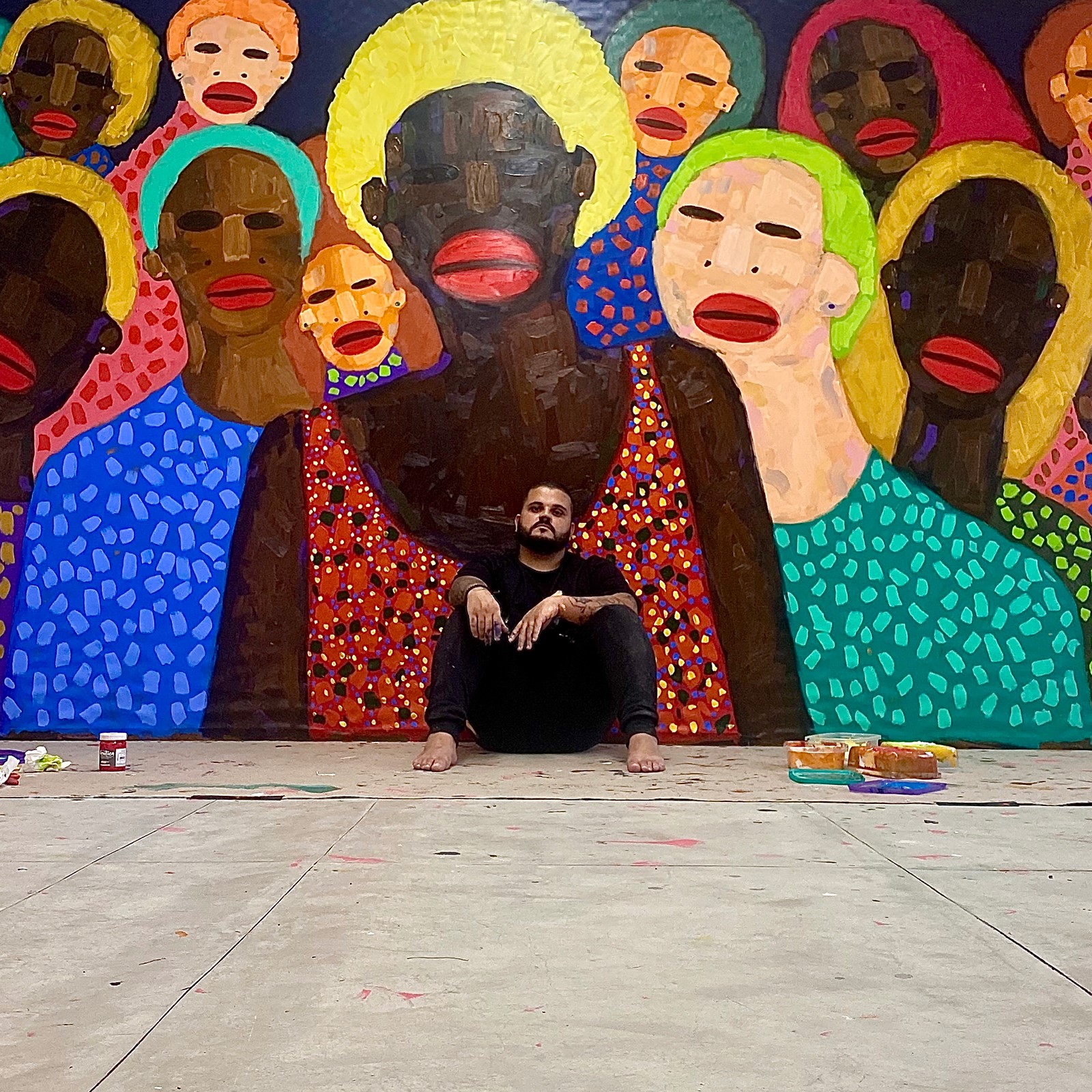 Rafael Baron
(b. 1986 Nova Iguaçu, RJ, Brazil)
Rafael Baron is a visual artist currently living and working in Rio de Janeiro. He holds a degree in theology from FAECAD and, in photography and studio photography from SENAC – RJ.
In his artistic practice, Baron develops studies and explorations of figurative painting with an eye toward contemporary poetics. His works start from an examination of the human figure through which Baron discloses the subjectivities of each sitter as he looks for unique attributs that can signify his subjects. Across his research, Baron addresses issues including and surrounding social prejudice, racism, LGBTQI+phobia, misogyny, and more. He regards art as a powerful communication tool that can contribute to shared, harmonious social experiences. By proposing open dialogues on tolerance and diversity, Baron invites the viewer to become a co-author of his creations.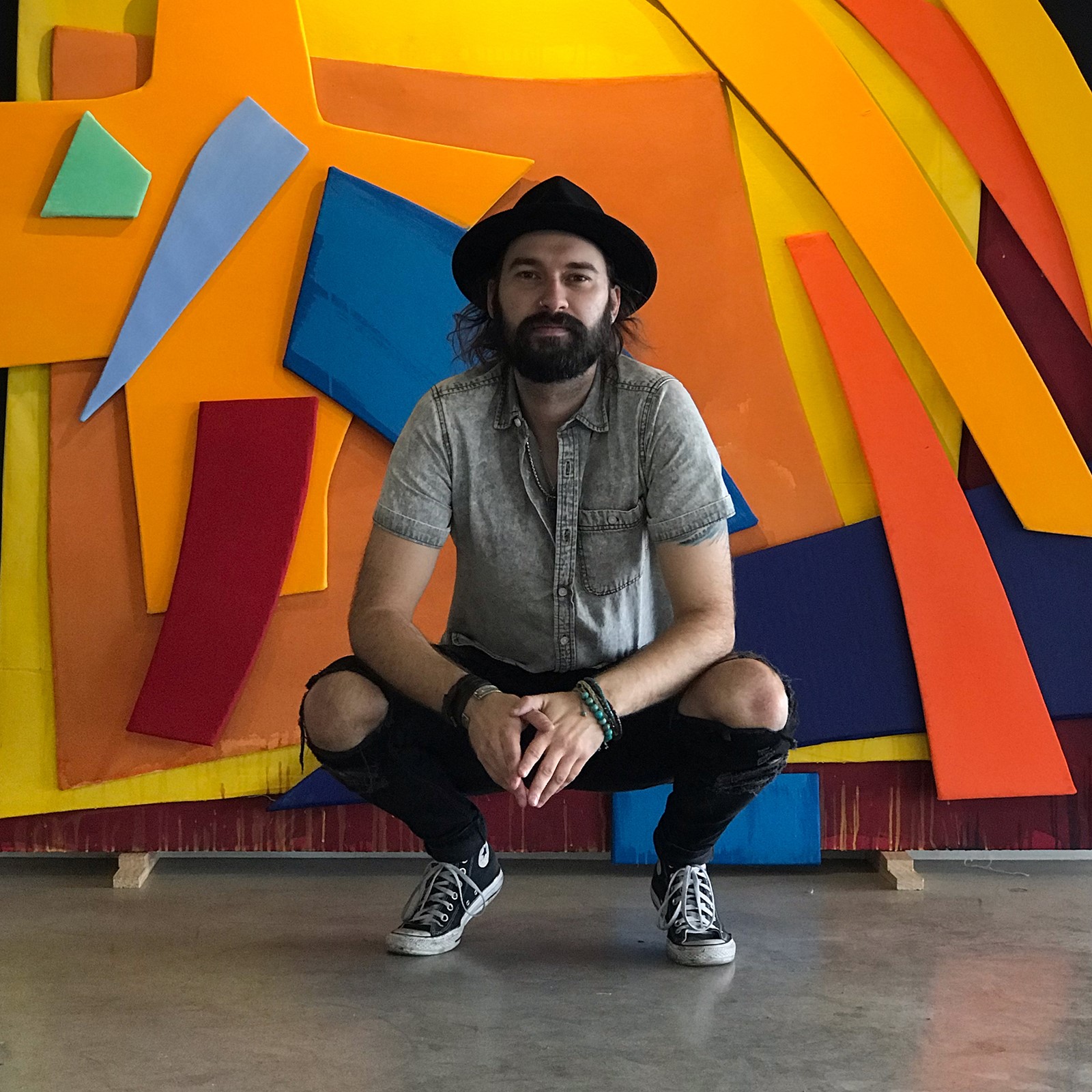 William Bradley
(b. 1984 York, UK)
William Bradley's work is both abstract and about abstract art. Viewing pure abstraction as problematized by its lack of communication from artist to viewer, Bradley overlays a more communal language: references and quotes from abstract art history from Abstract Expressionism to artists such as John Hoyland, Sandra Blow, and Eduardo Chillida, as well as formulas from artists such as Rothko, de Kooning and Motherwell. As curator Vincent Honoré asserts, 'William Bradley is a perverse Abstract Expressionist'. Through his work, Bradley explores the painted depiction of painting's codes, then adds in sculptural elements to explore what abstract painting might be. From collage to composition to three-dimensional form, Bradley deploys experiential effects—gesture and color—to interplay with shadow and light, imbuing each work with subtle, suggestive, emotional qualities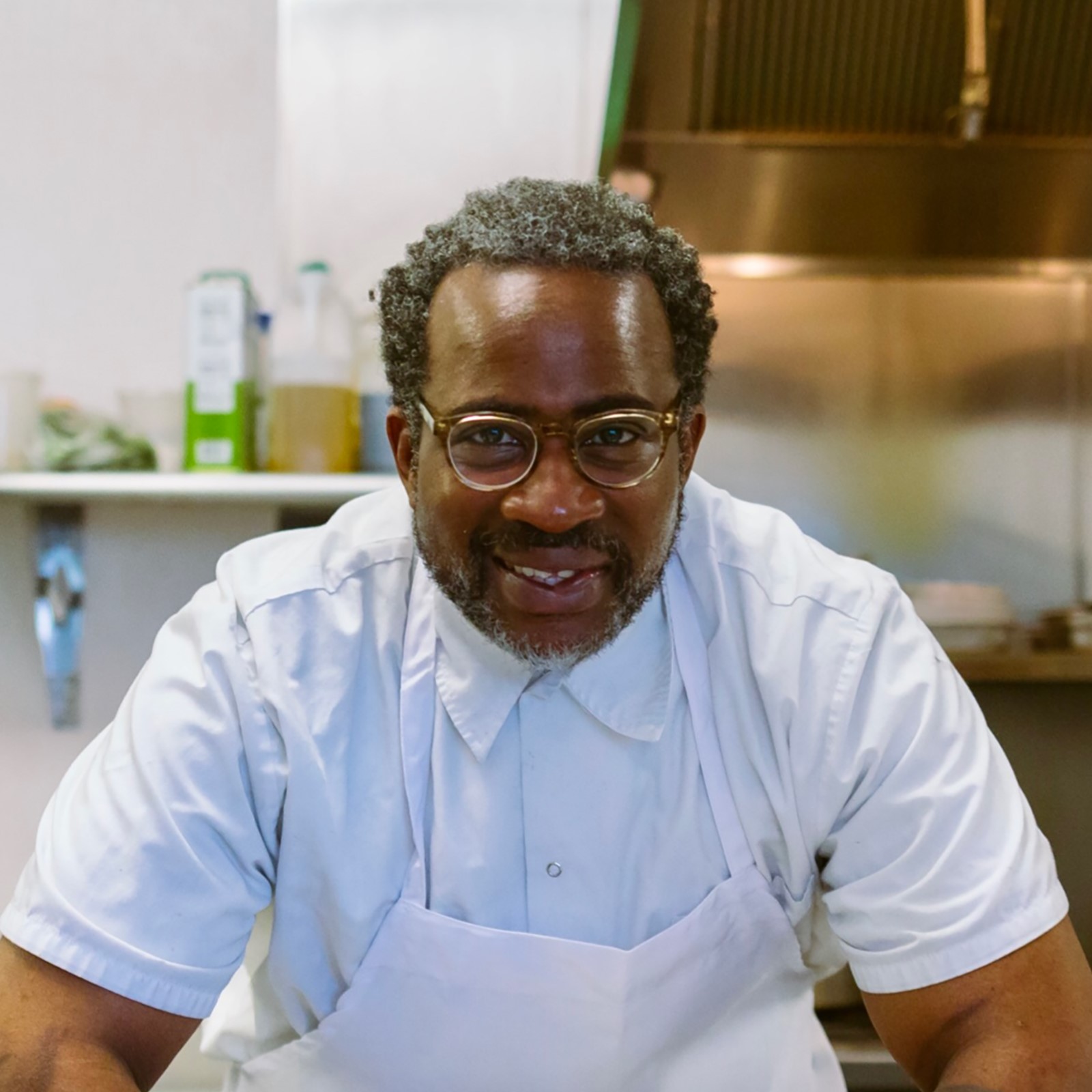 Roscoe Hall
(b. 1978 Chicago, Illinois)
Roscoe Hall is an artist—creative and culinary—with an M.F.A. from Savannah College of Art and Design. A truth-teller in pigment, Hall works across media from food to paint and beyond to call into question, and challenge, previously unexamined histories of place, race, and space. Hall's works nod toward his artistic predecessors—Romare Bearden Kara Walker, Purvis Young, and more—in fractured narratives of identity, moments of unexplored history, and tales of mortality. With life as his subject matter, Hall plays with ideas of mortality—whether an artwork or a recipe. For Roll With It, Hall shares stark imagery wrapped in disconcerting layers of meaning that hint toward self-taught stories and word-of-mouth tales. Relevant and irreverent, Hall's paintings are freeze-frame, front page illustrations of personal reflection.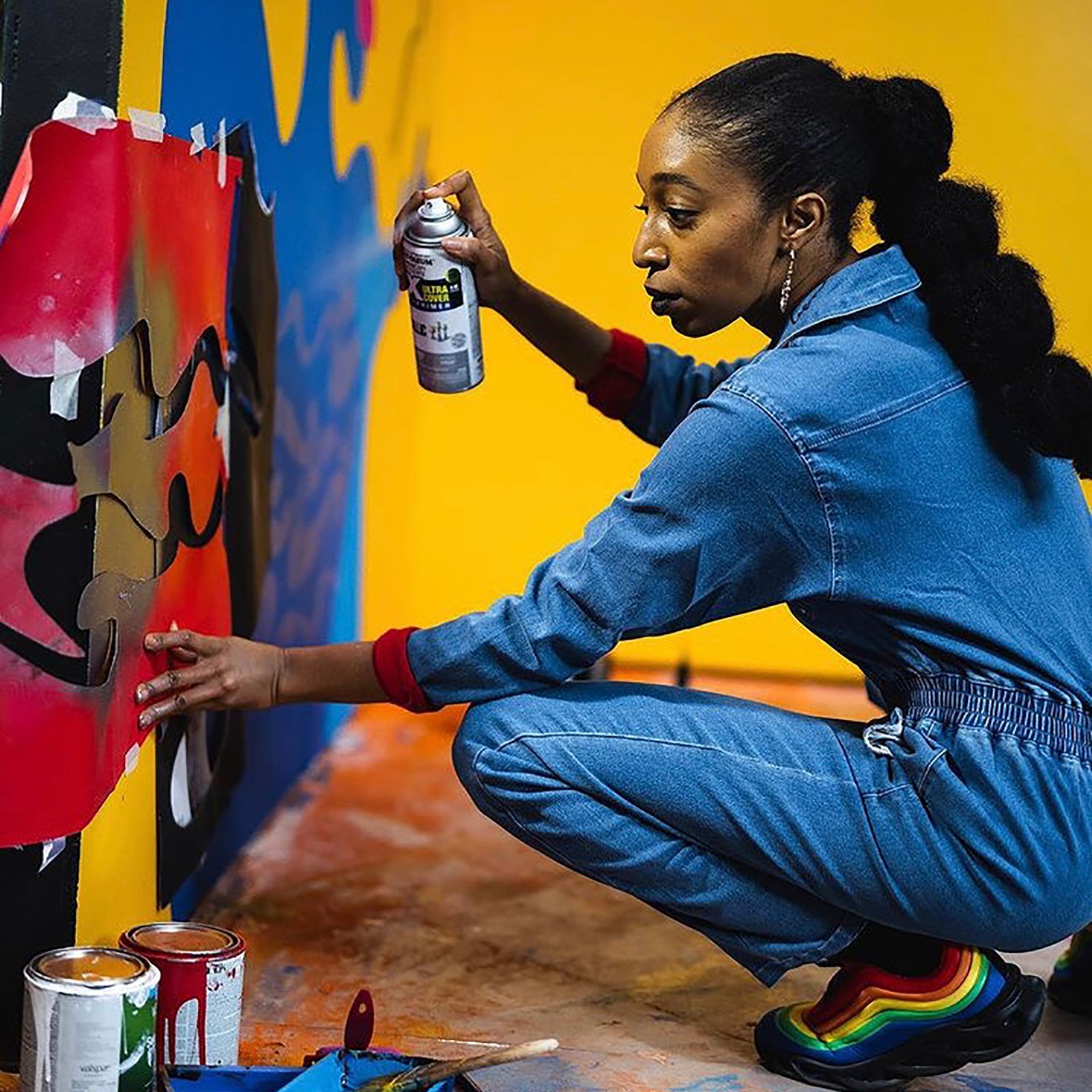 Erin LeAnn Mitchell
(b. 1988 Birmingham, Alabama)
Erin LeAnn Mitchell is a Birmingham, Alabama native who attended the School of the Art Institute of Chicago, where she received her Bachelor of Fine Arts in 2011. Her interest and continued passion for the arts led her to Columbia College Chicago, where she graduated with a Master of Arts in Art Education in 2016. Since returning to Birmingham, Mitchell's work has been featured across the media landscape, from the nationally syndicated television show, Empire, to the exhibition, "All Things Bright & Beautiful," at the Birmingham Museum of Art, as well as having been presented to Dr. Angela Y. Davis in recognition and honor of the educator's humanitarian achievements and life's work.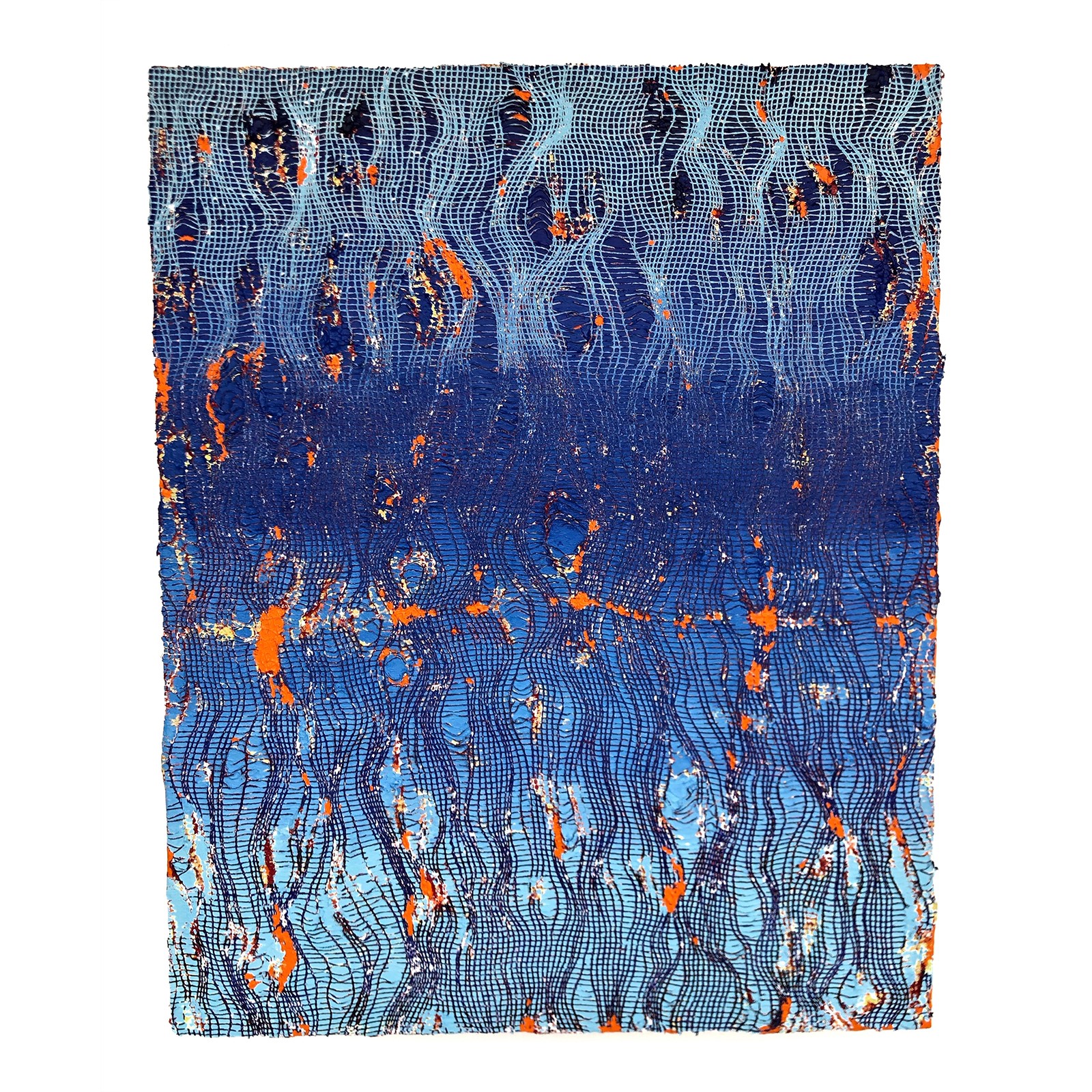 Merrick Adams
Burn This House, Burn it Blue
30 x 24 inches
acrylic on panel
2021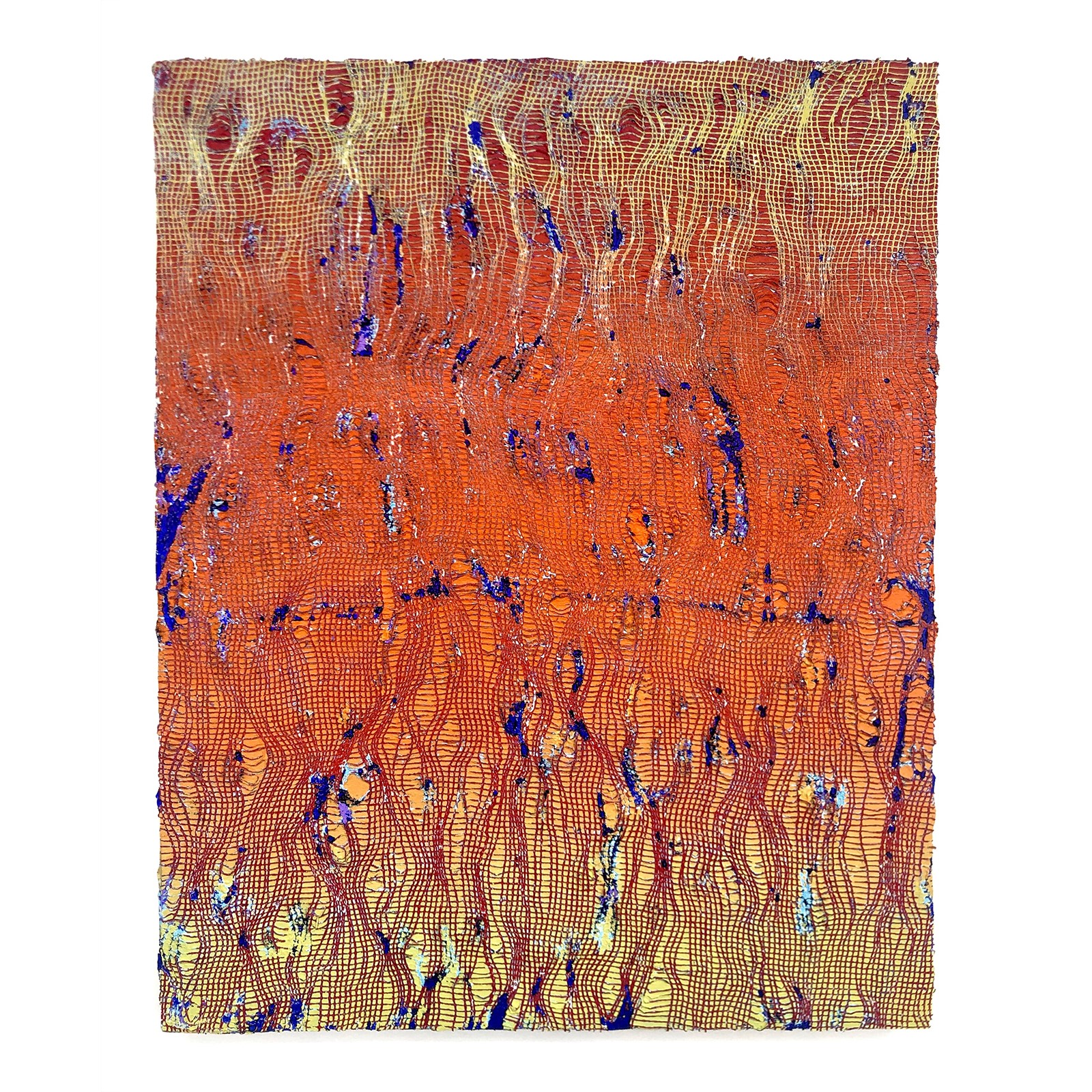 Merrick Adams
But the Night Sky Blooms With Fire
30 x 24 inches
acrylic on panel
2021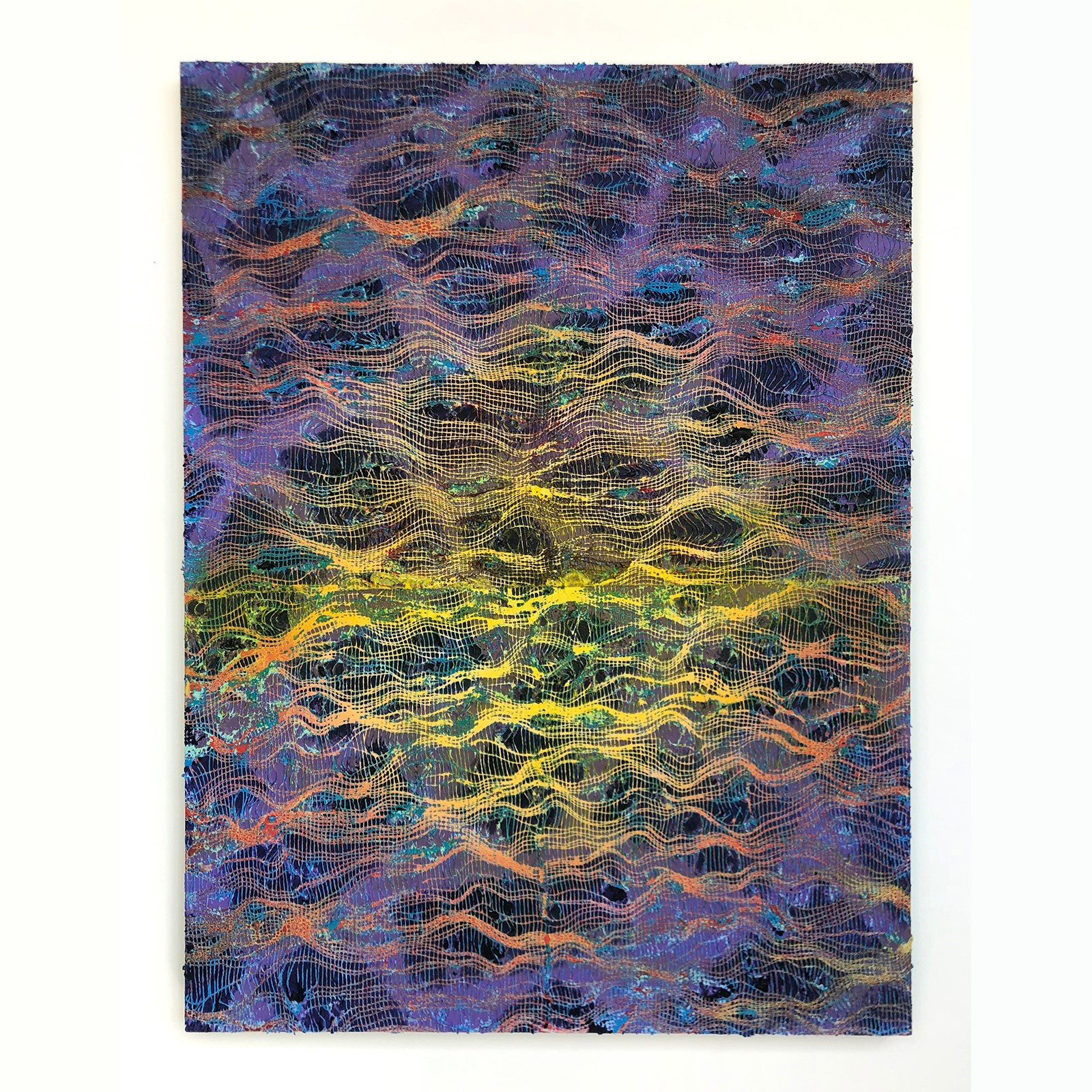 Merrick Adams
Heat Lightning
40 x 30 inches
acrylic on panel
2021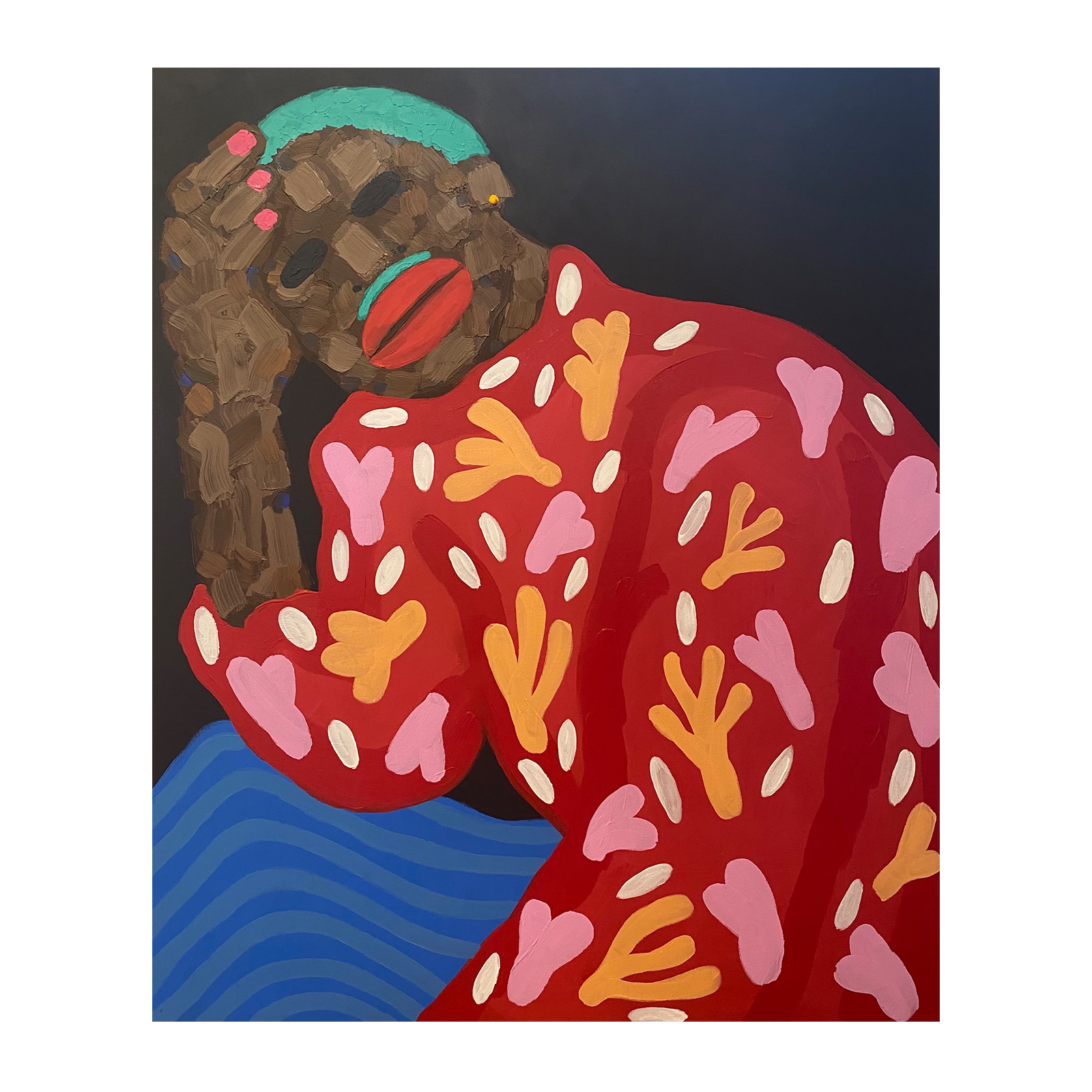 Rafael Baron
Henri
47.2 x 39.3 inches
acrylic on canvas
2021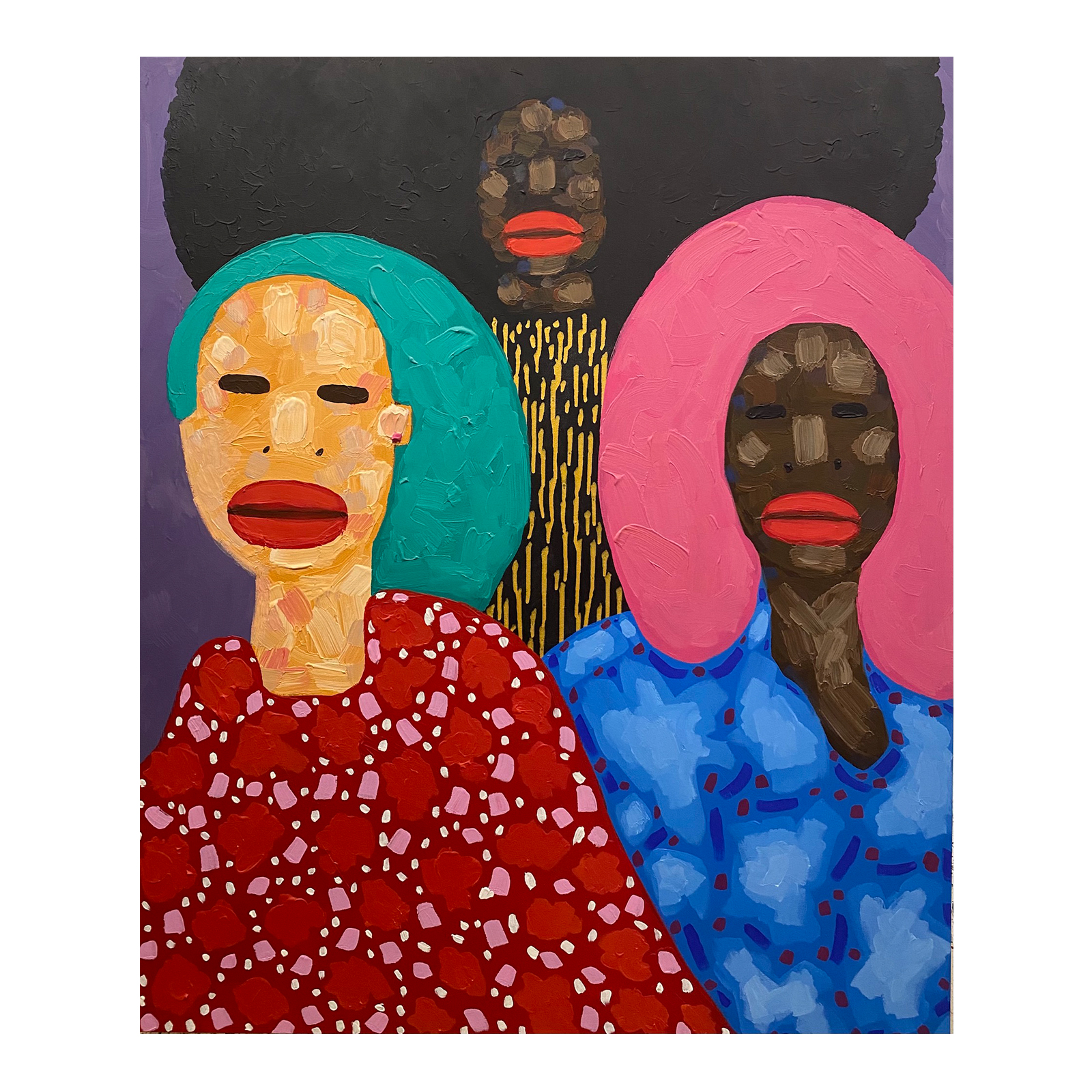 Rafael Baron
Judite, Laura e Yasmin
47.2 x 39.3 inches
acrylic on canvas
2021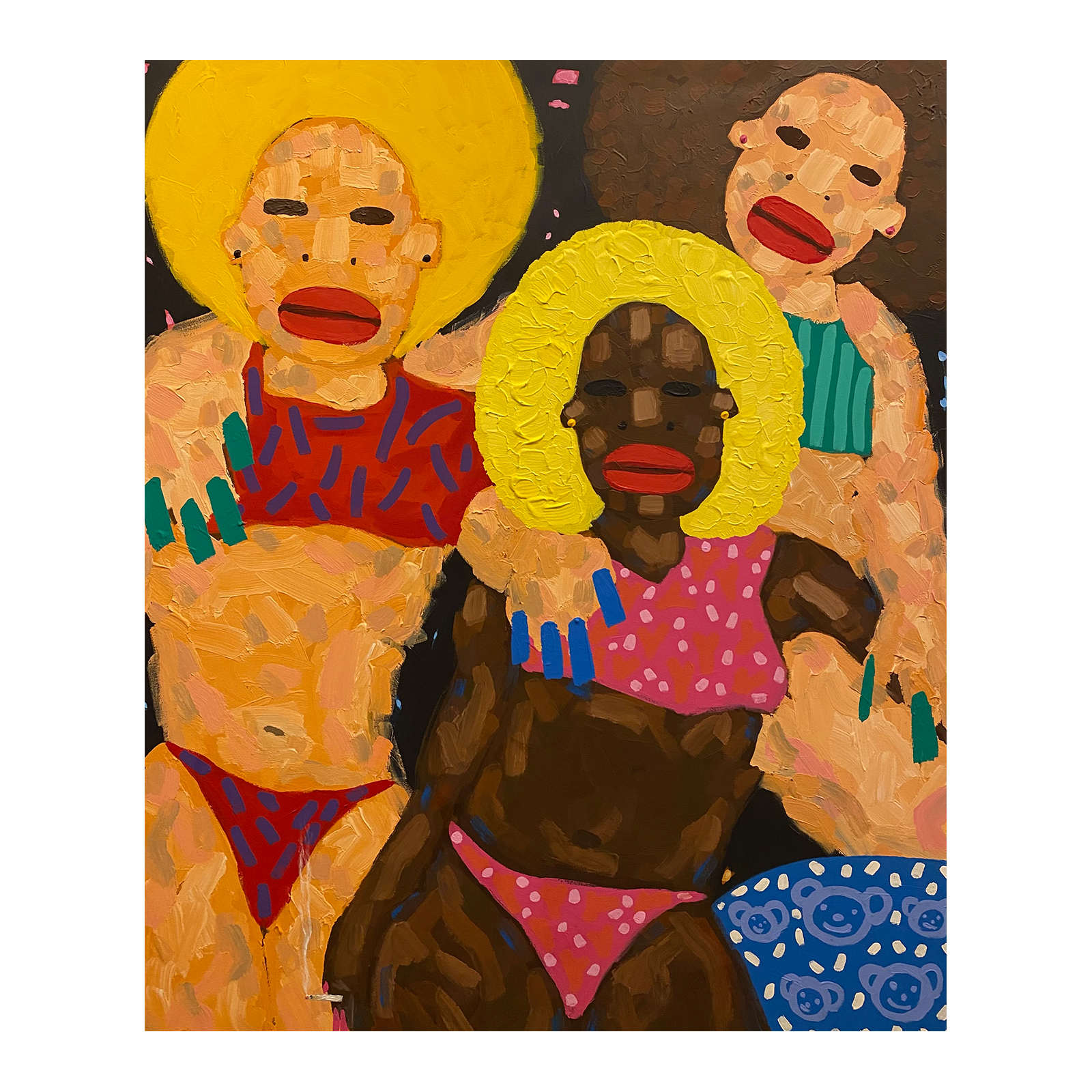 Rafael Baron
Aline, Brenda e Jéssica
47.2 x 39.3 inches
acrylic on canvas
2021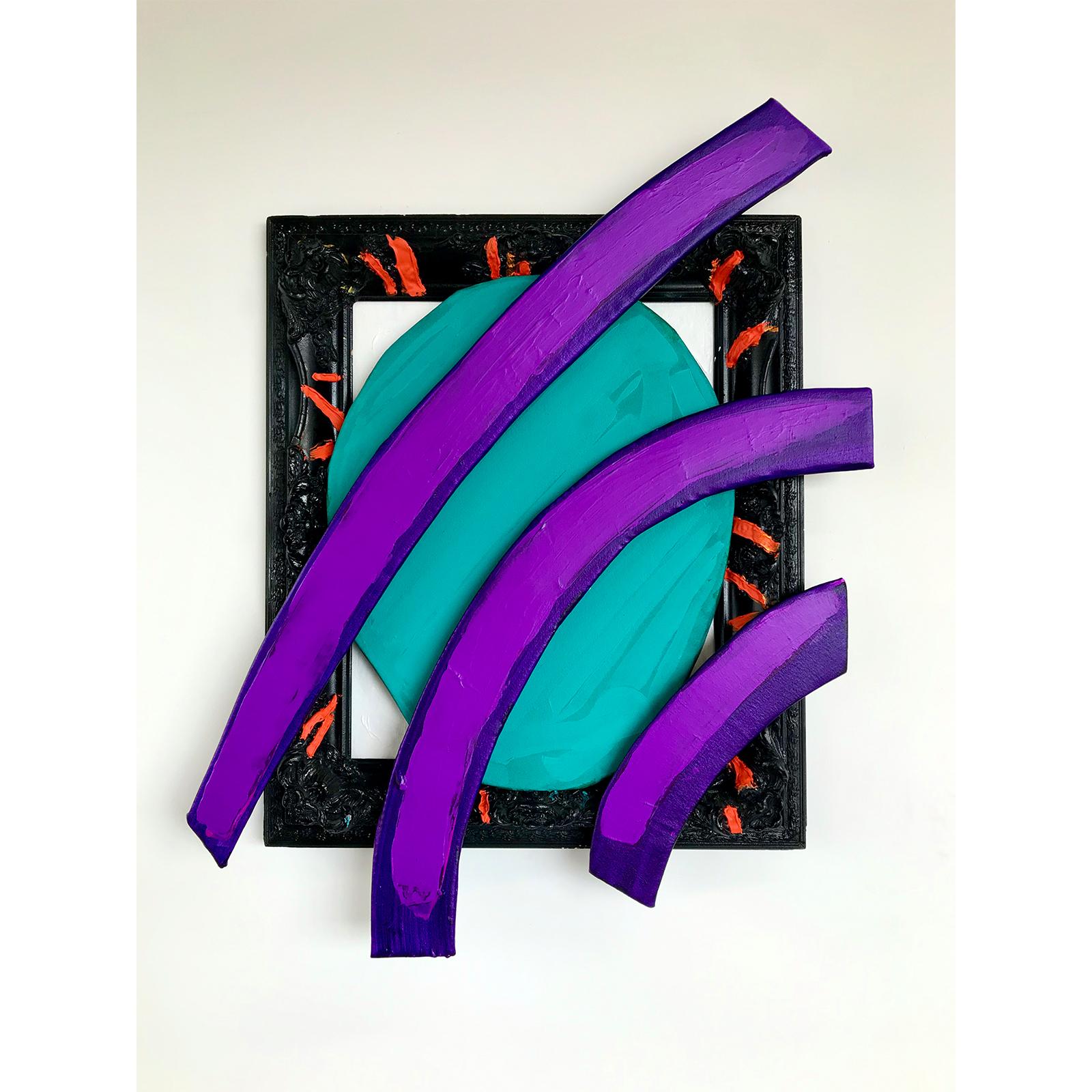 William Bradley
Dearly Beloved
35 x 27.5 x 4 inches
acrylic on canvas on board
and found frame
2021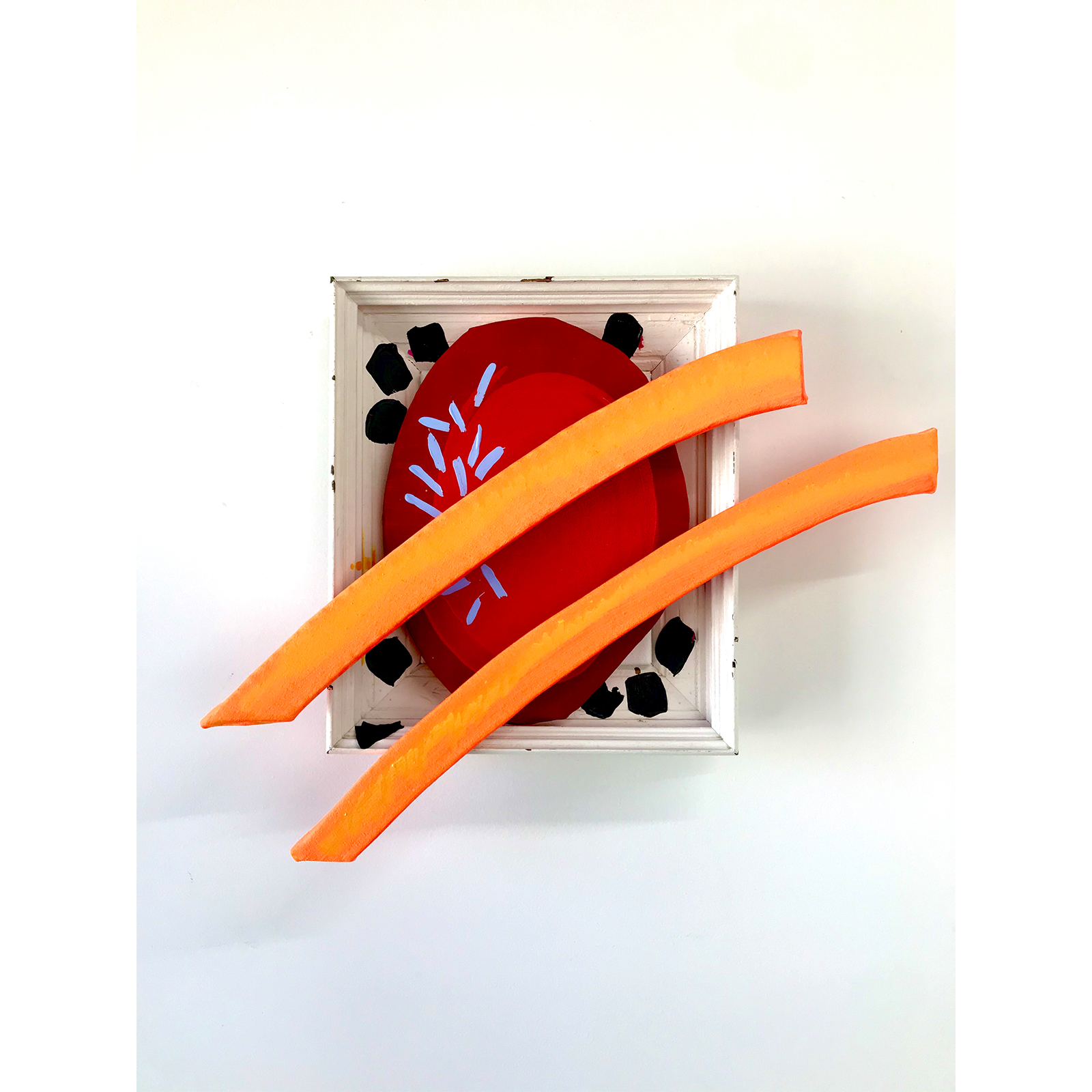 William Bradley
And I'm Feeling Good…
17.5 x 22 x 4 inches
acrylic on canvas on board
and found frame
2021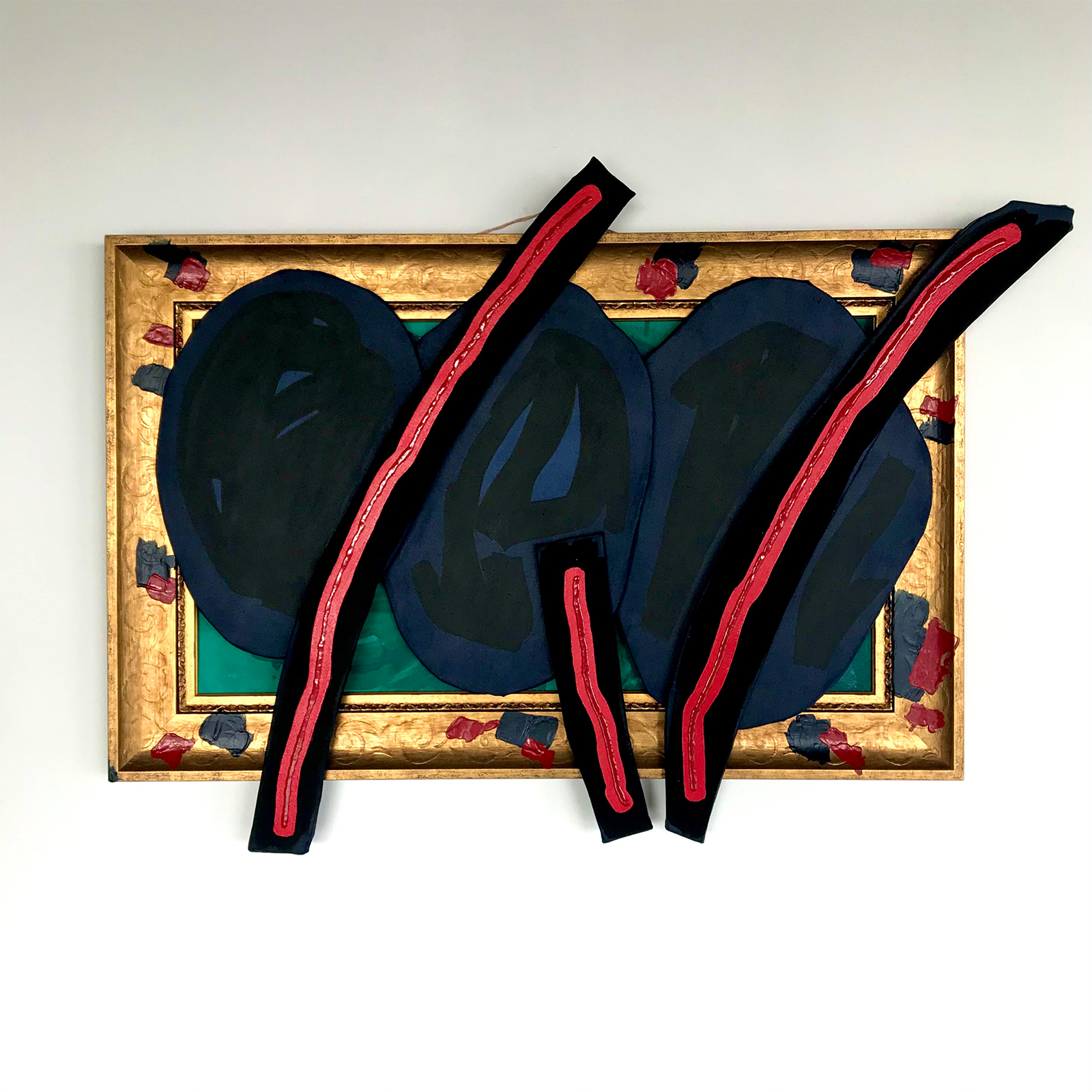 William Bradley
Roll With It
38 x 51 x 3 inches
acrylic on canvas on board
and found frame
2021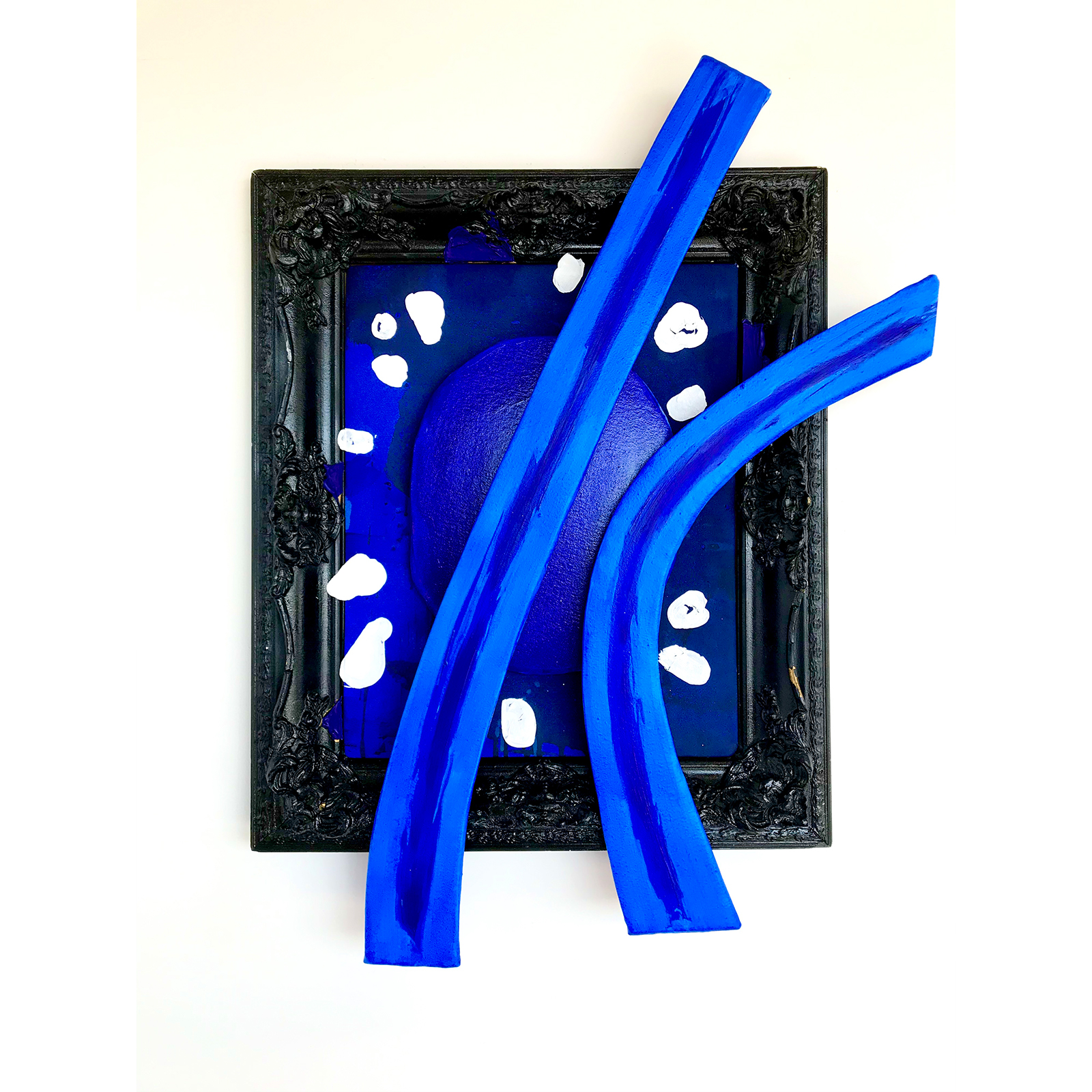 William Bradley
Staring Down The Long Night
34 x 26 x 3.5 inches
acrylic on canvas on board
and found frame
2021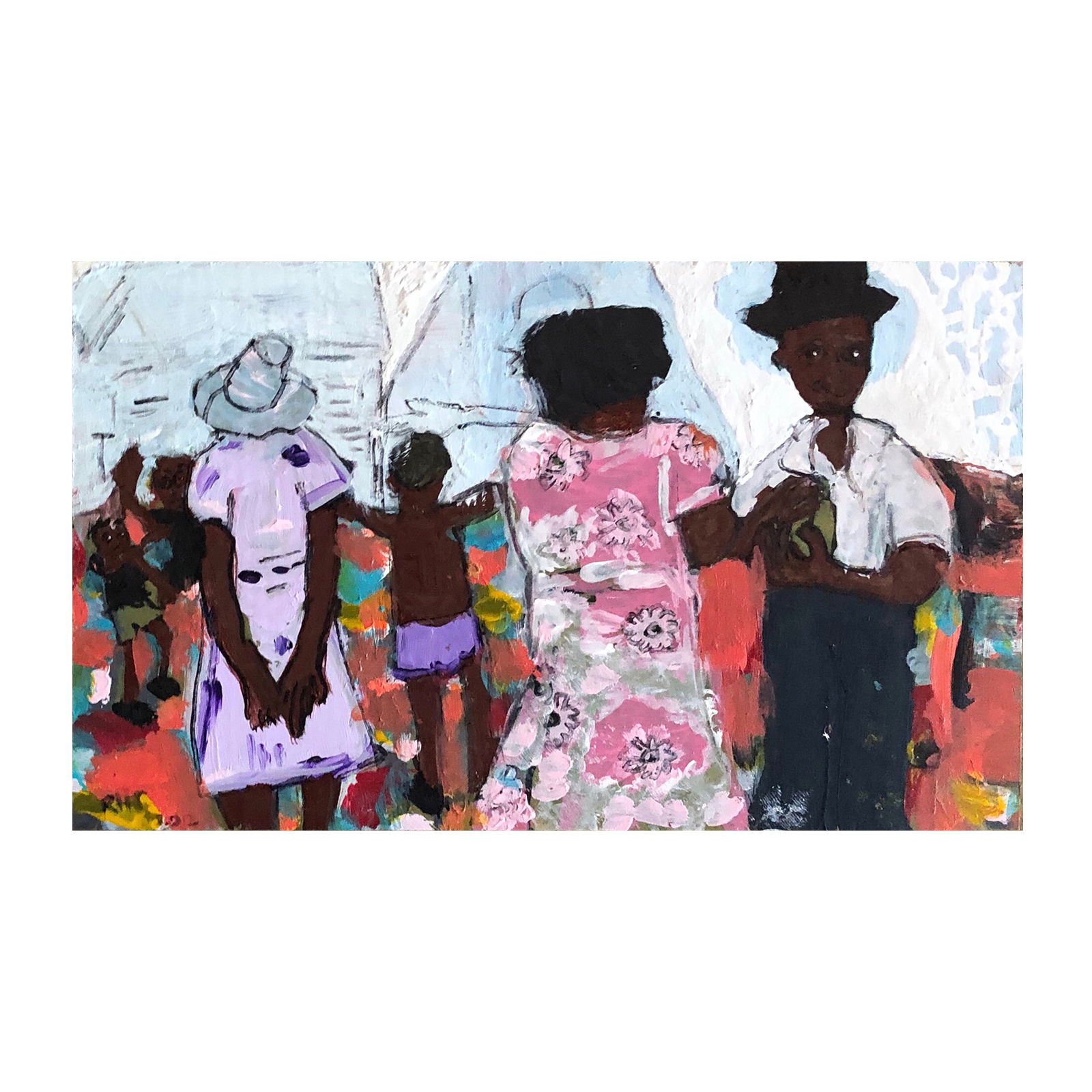 Roscoe Hall
Stealing from Family
6 x 10 inches
acrylic, oil, pastel, ink, plywood
2012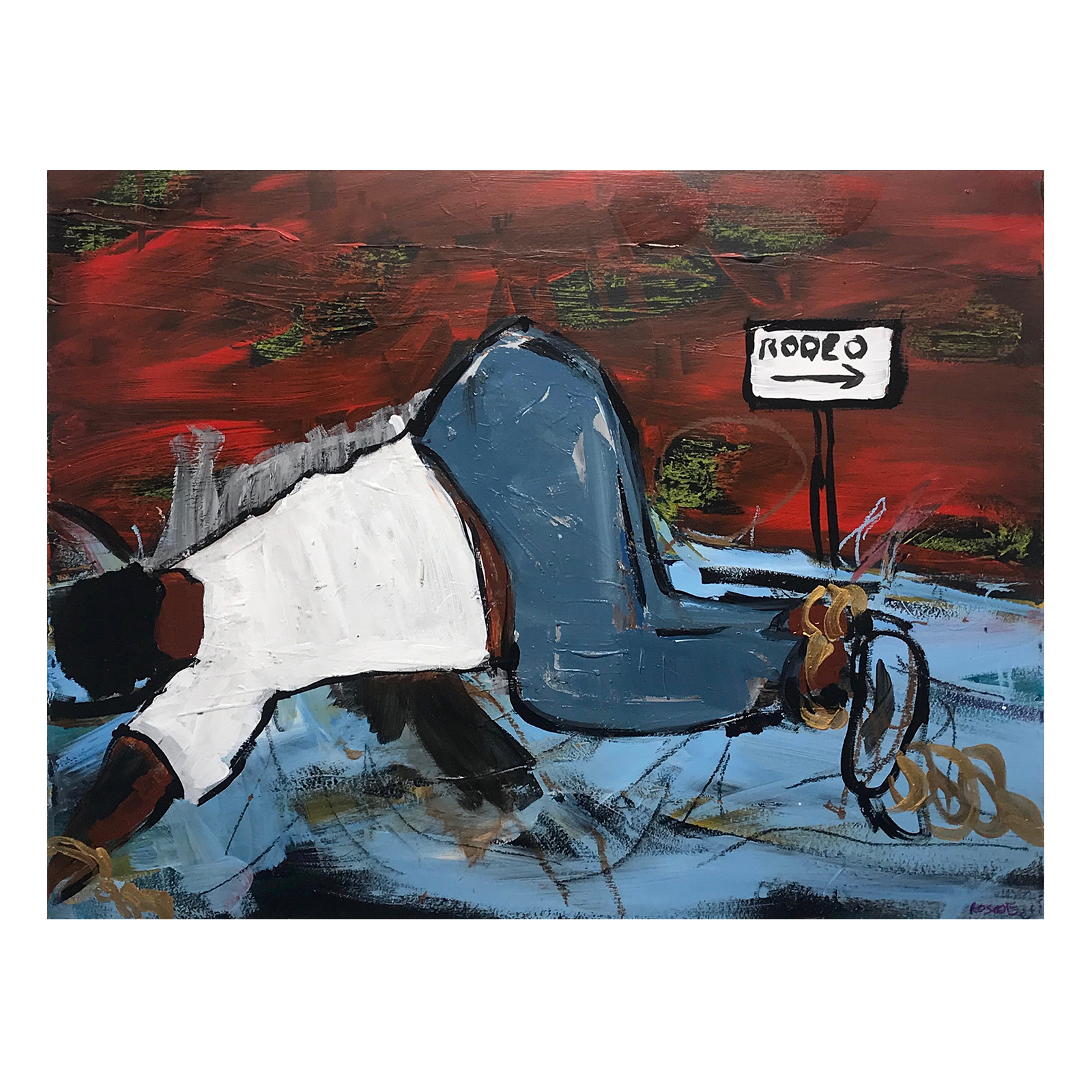 Roscoe Hall
I Got A Hurtin On My Right Side
17.75 x 23 inches
acrylic and ink on wood
2021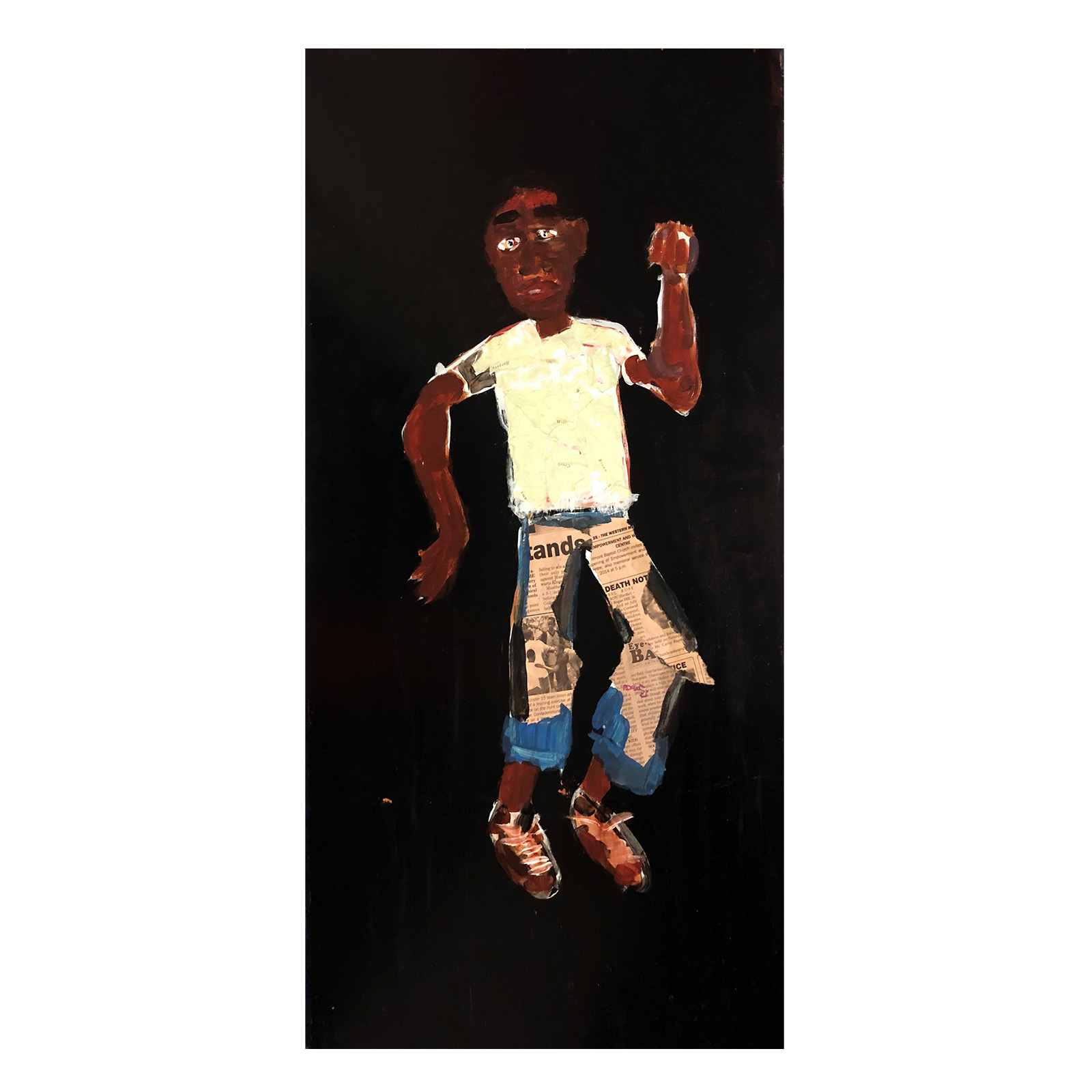 Roscoe Hall
Henry Fuqua
31 x 16 inches
acrylic and ink on wood
2021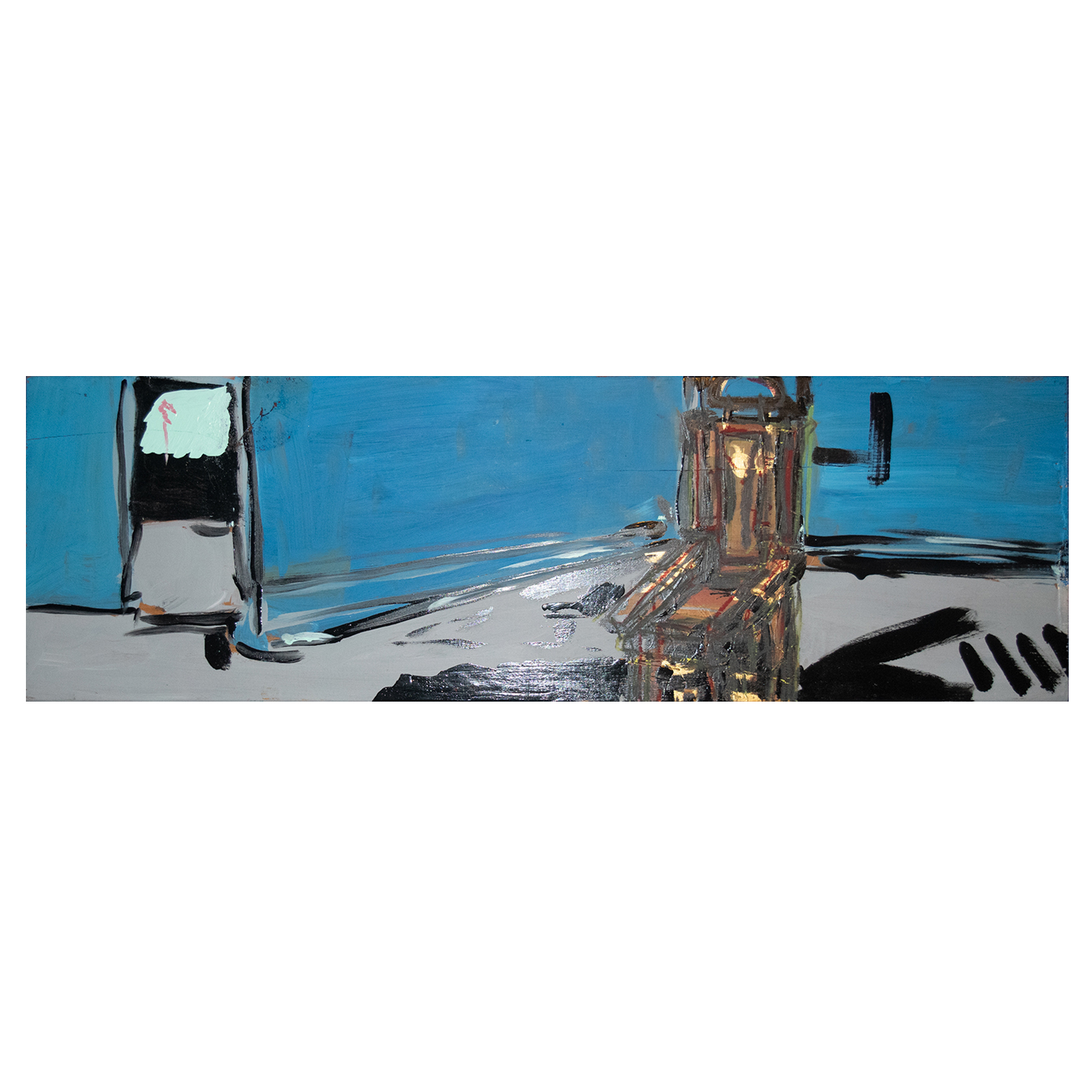 Roscoe Hall
Old Dirt Mcgert
8.5 x 27 inches
acrylic and ink on wood
2021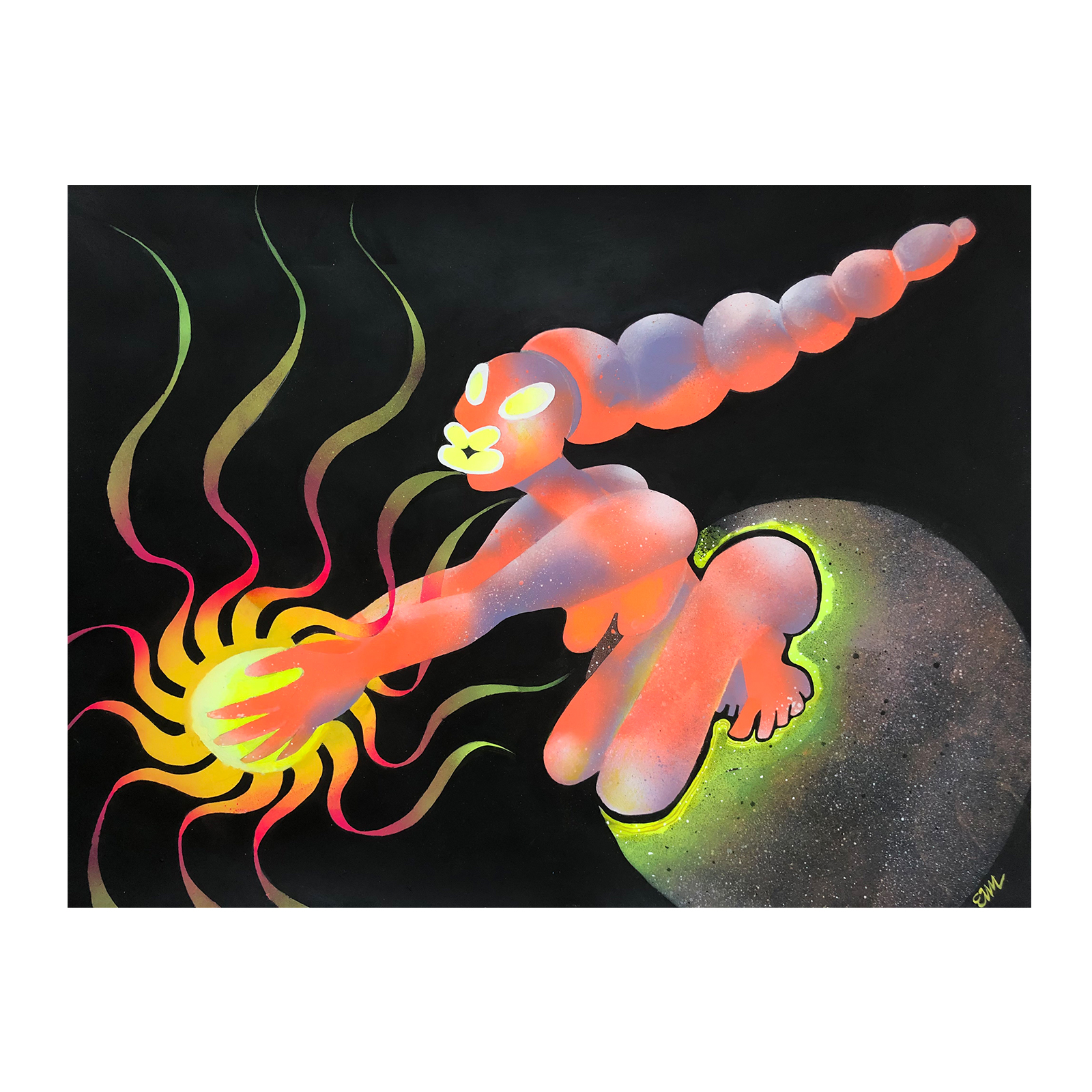 Erin LeAnn Mitchell
Sun Bearer
18 x 24 inches
spray paint, acrylic, colored pencil
on paper
2021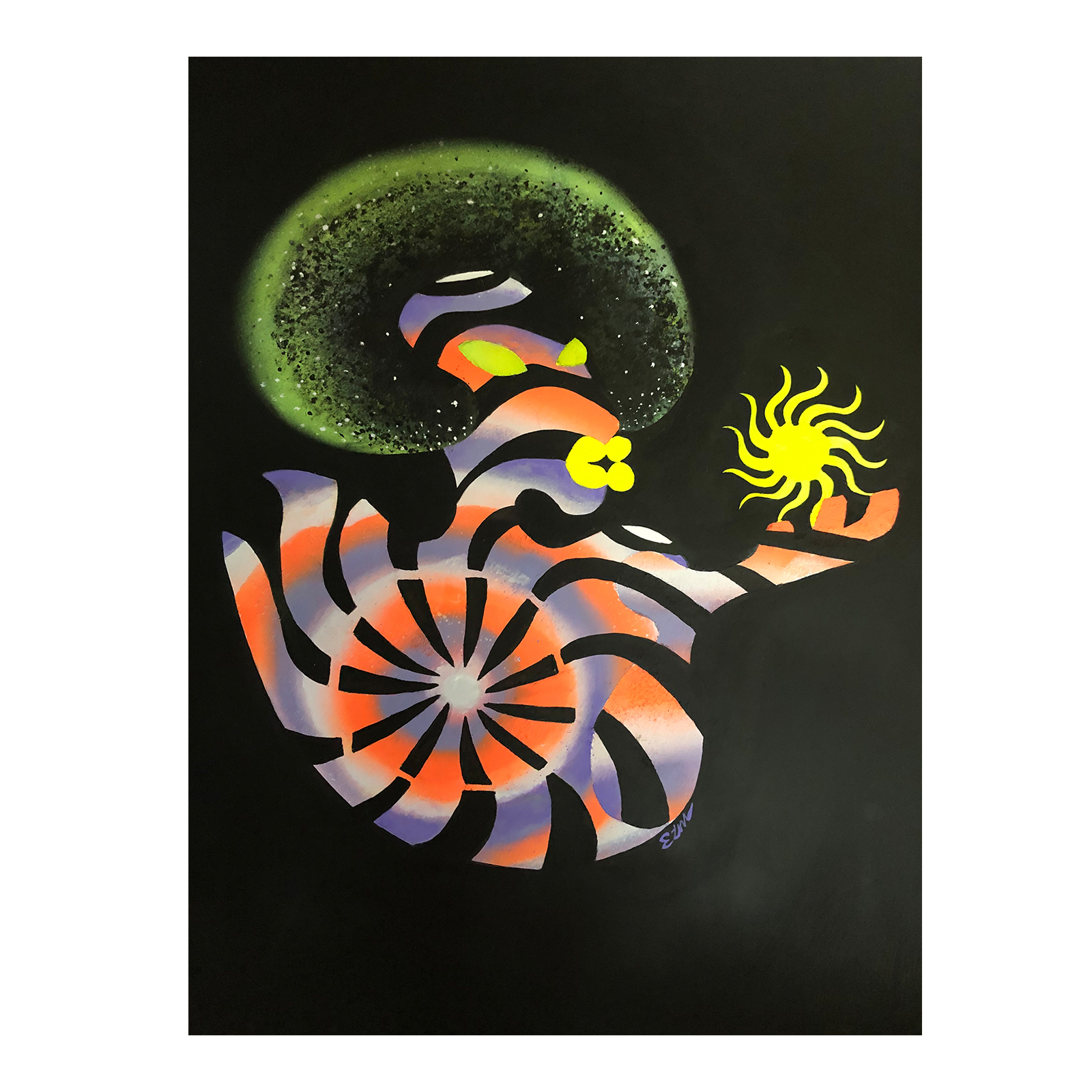 Erin LeAnn Mitchell
Astro Black Sun God 
18 x 24 inches
spray paint, acrylic, colored pencil
on paper
2021