A little under a year ago, impulse! Records released a long-unknown recording of a show by John Coltrane. Recorded in 1965, in Seattle, a love supreme live! Represents opportunities to experience a true genius in sound. Coltrane, known as much for his mercurial talent as for his relentless pursuit of excellence, was a true harbinger of mid-to late-20th century American jazz. Jazz — a true American artform shared with an often-unfamiliar audience.
Rico Gatson challenges viewers to set aside preconceptions for perceptions — to understand that hard-edge abstraction can just as directly map the soft fabric implied by a flag as it is to be the visual corollary to the experimental score of free jazz. For each of the six paintings in Rico Gatson's exhibition represent a unique aspect of the American experience. As he explains, "Untitled (Flag VI), and Untitled (Flag VII), both 2020, are part of a larger series that reimagines the American flag as prismatic geometries, patchworks of triangles and x's. The series, started during the pandemic in 2020 and inspired by Gee's bend quilts, posits questions including, 'what is a flag?', 'what is nationalism?', and 'who benefits?'
Untitled (Universal Consciousness after Alice Coltrane) (2021), Untitled (Love Supreme) (2021), and Untitled (olé after John Coltrane) (2021), are all inspired by the transcendental music of John Coltrane and Alice Coltrane. Jazz is undoubtedly one of the most significant American inventions of the previous century and the experimentation and expansiveness of avant-garde jazz in the 1960s — becoming more internalized and spiritual — is significant to me and my work."
Step close to Gatson's works, and you're just as likely to sense theme and repetition, melody and refrain, as you are to have that flash of understanding where you're obsessed by the slight, subtle, and sonorific sounds of Gatson's studio — but that's compressed air through a spray can, and the sound of a brush on a surface that's substituting for the sound of an embouchure around a mouthpiece, or a hammer on a key.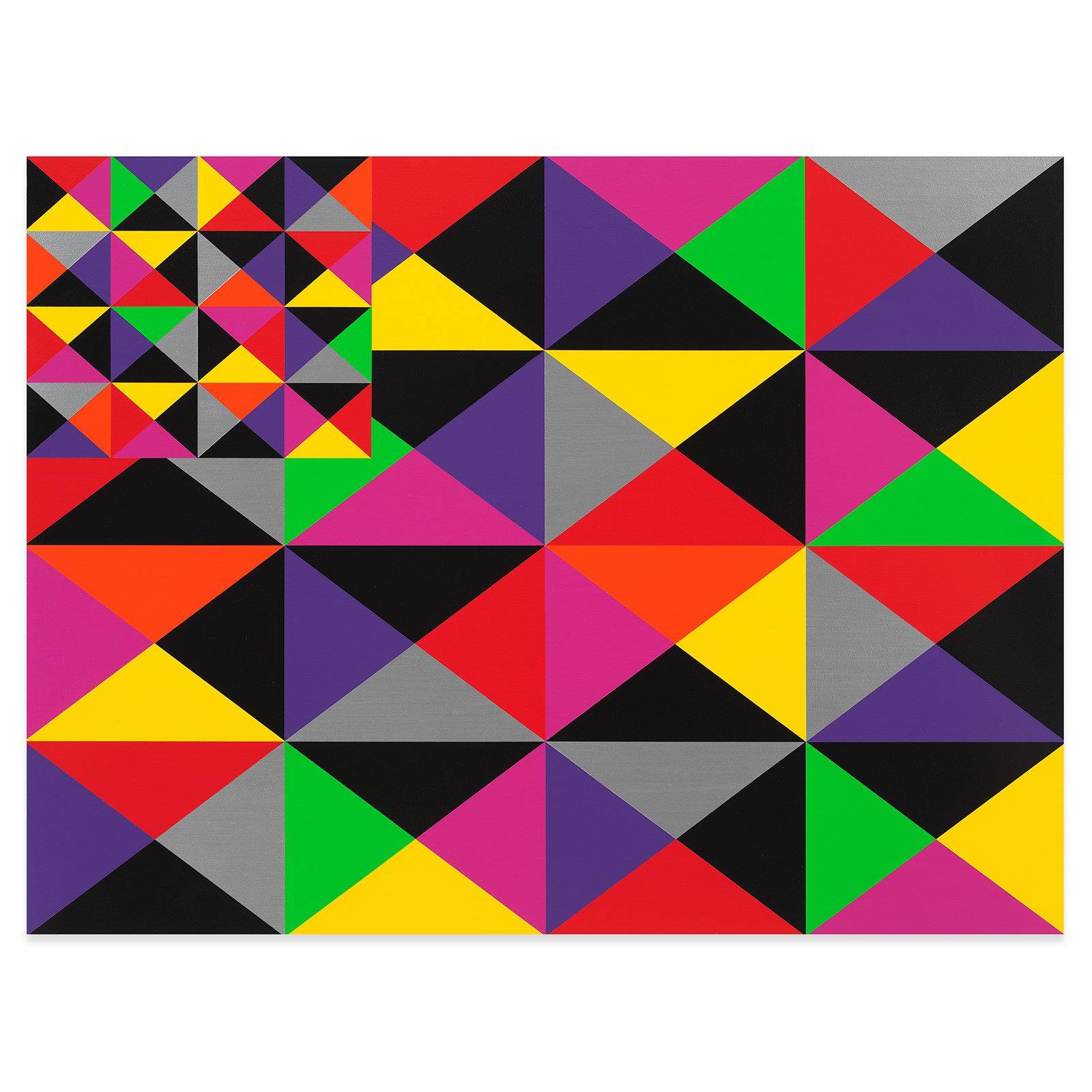 Rico Gatson
Untitled (Flag VII)
36 x 48 inches
Acrylic paint on wood
2020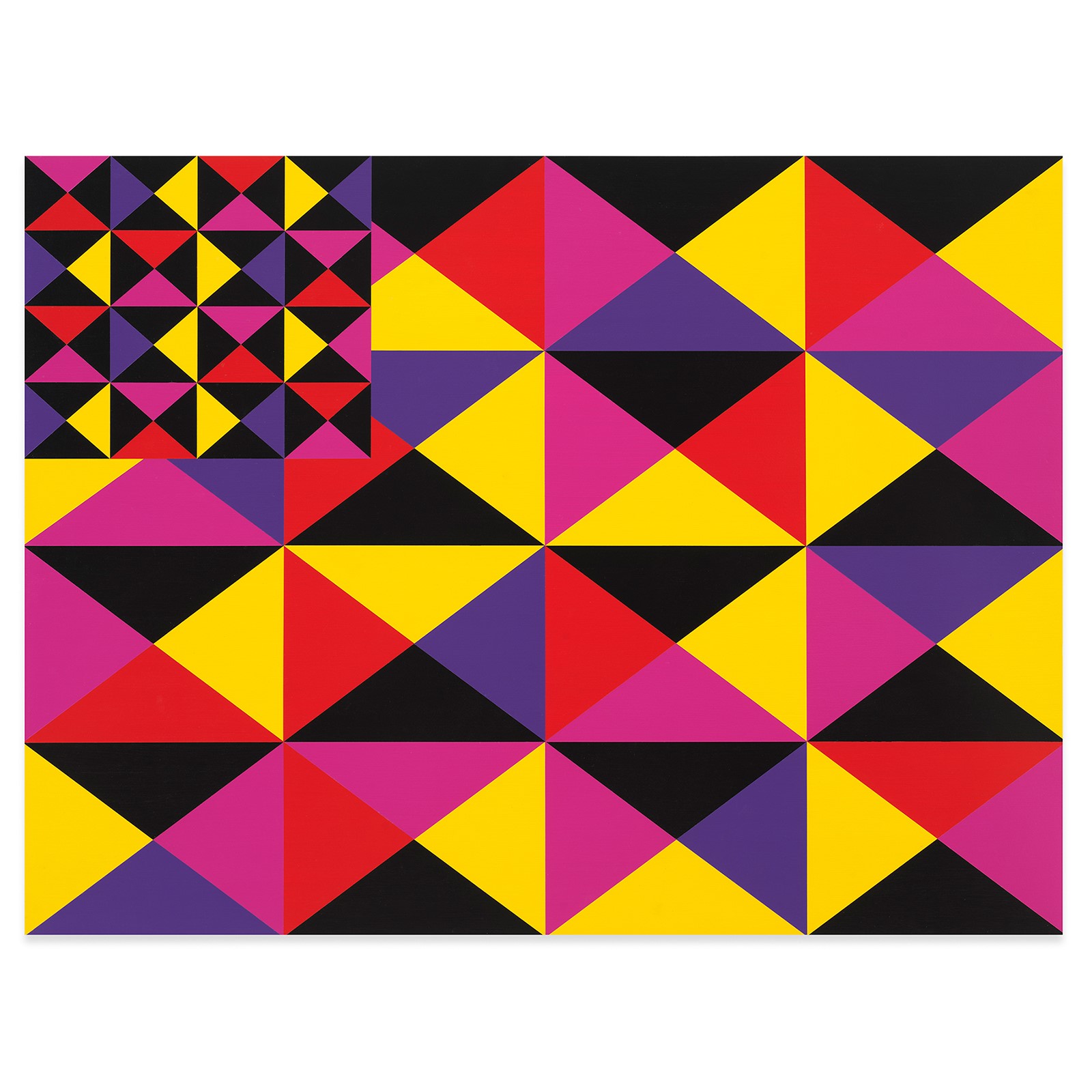 Rico Gatson
Untitled (Flag V)
36 x 48 inches
Acrylic paint on wood
2020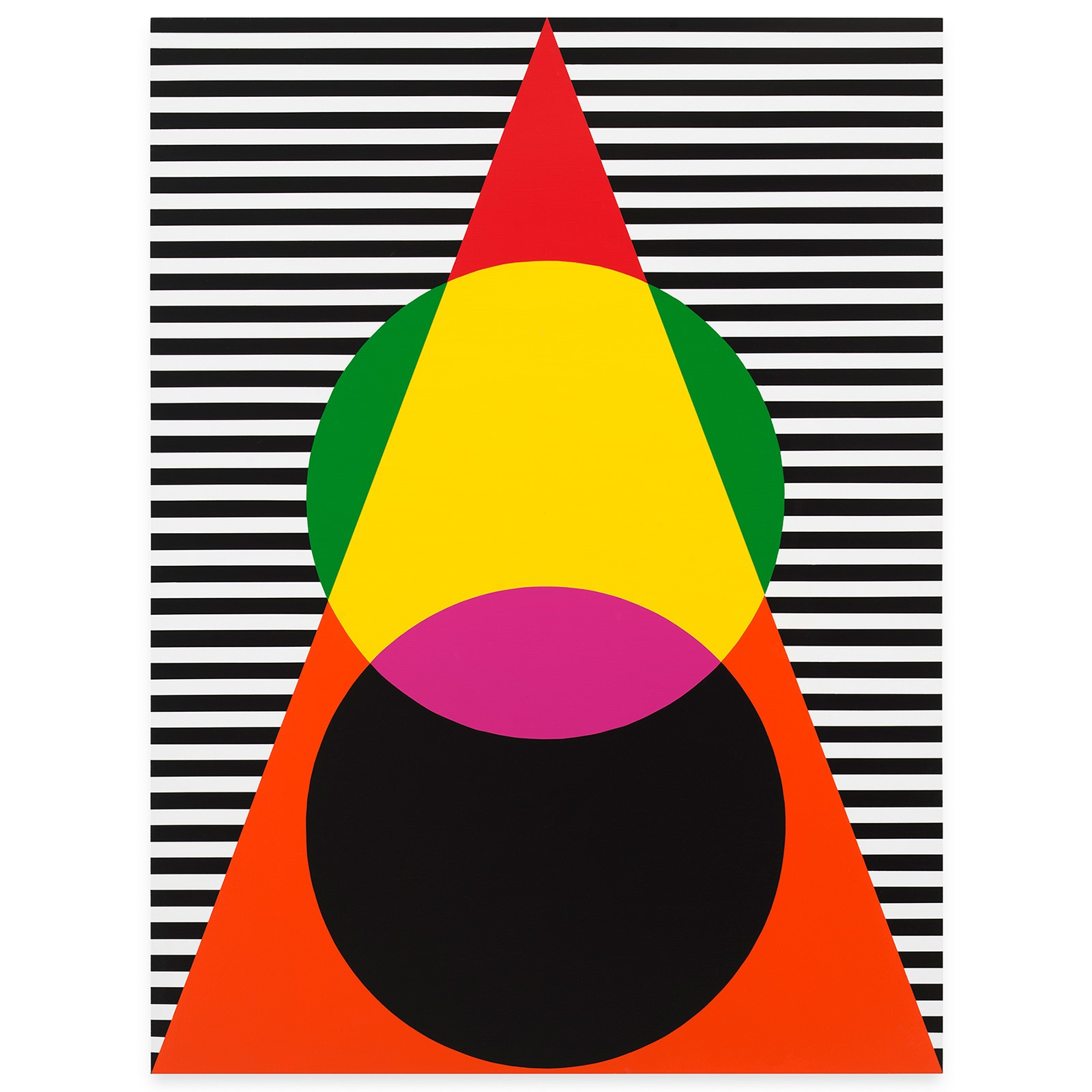 Rico Gatson
Untitled (Love Supreme)
48 x 36 inches
Acrylic paint on wood
2021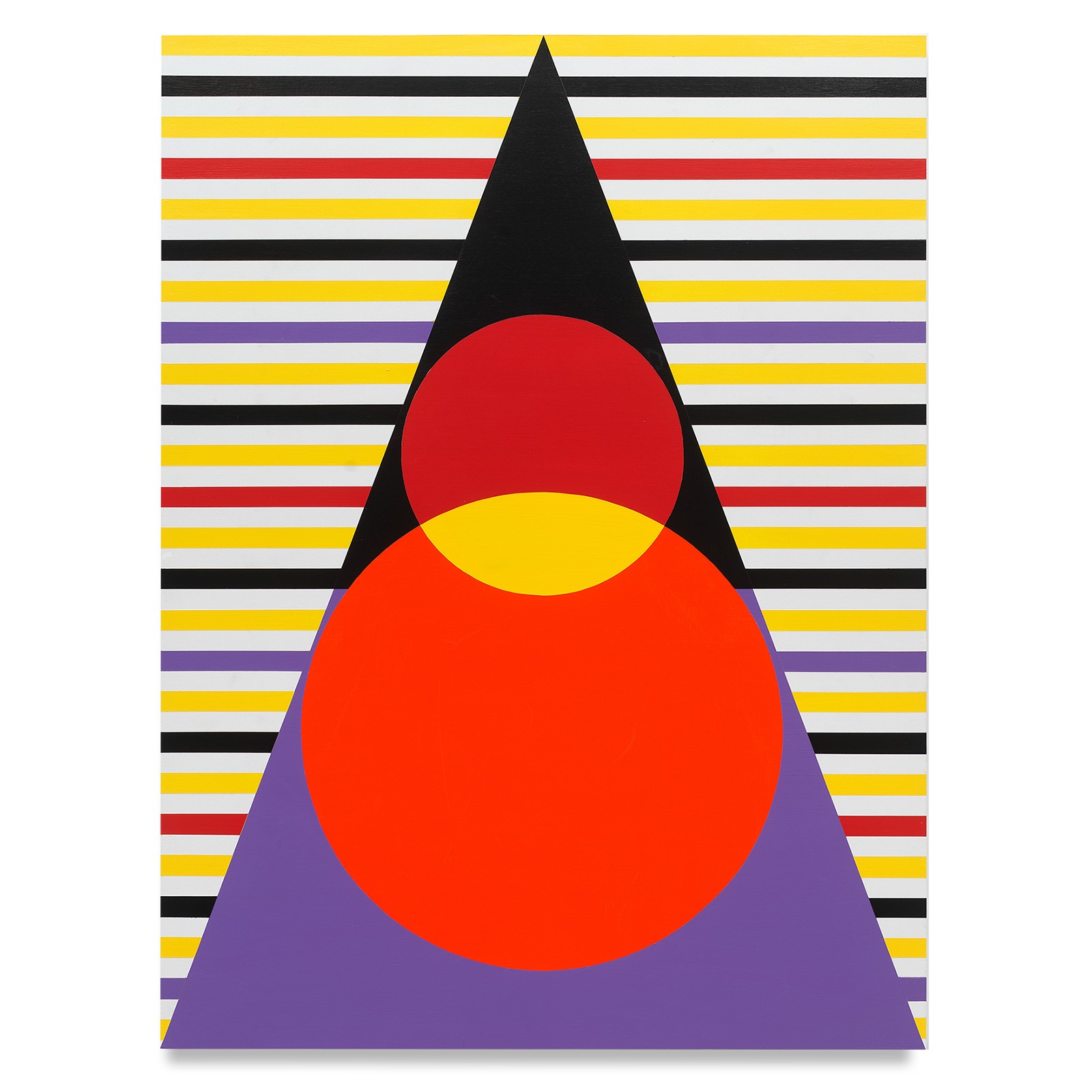 Rico Gatson
Untitled (Olé After John Coltrane)
48 x 36 inches
Acrylic paint on wood
2021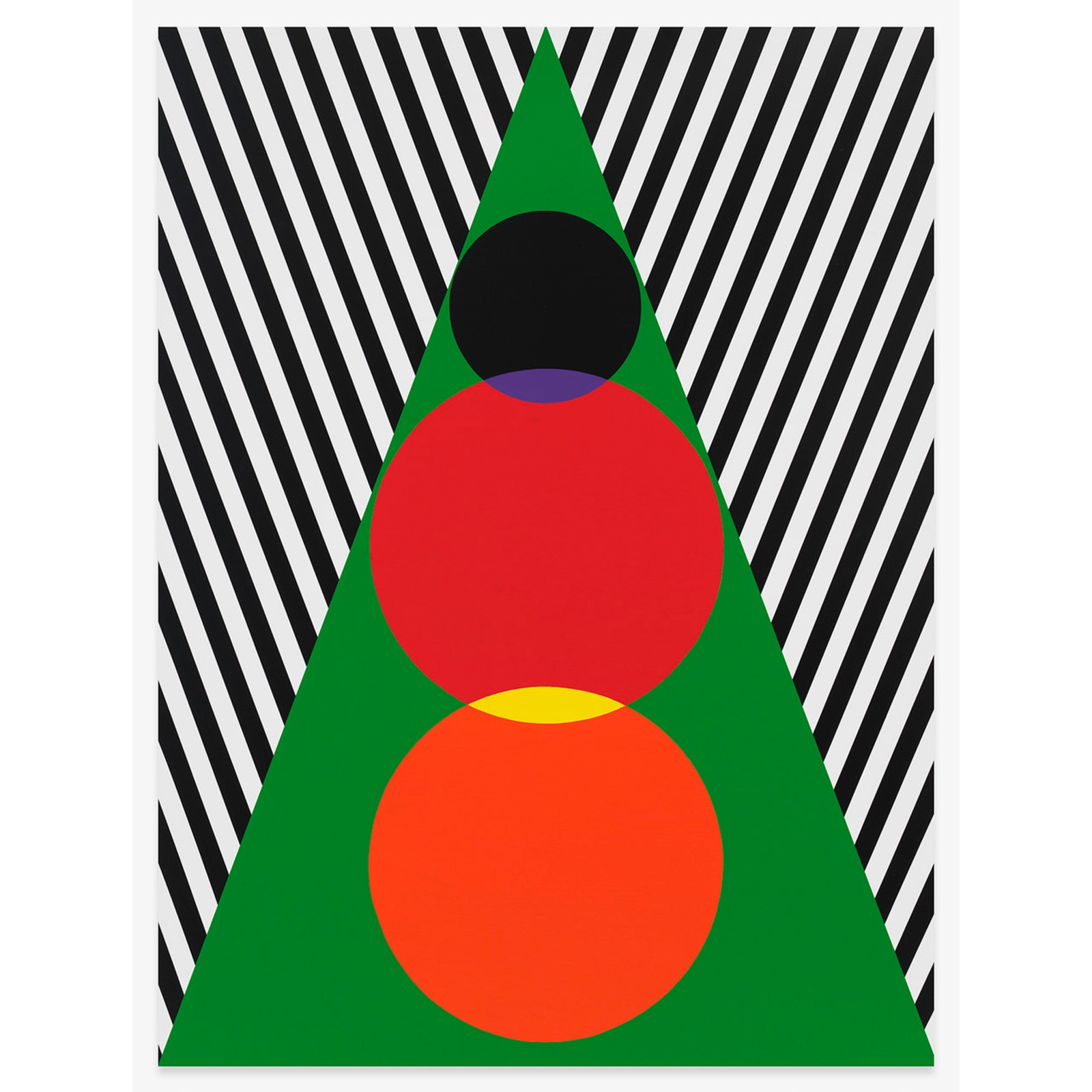 Rico Gatson
Untitled (Universal Consciousness After Alice Coltrane)
48 x 36 inches
Acrylic paint on wood
2021