Kysa Johnson's Fragmentary Beauty
Step close to a work by Kysa Johnson and you may think you're experiencing a sublime exploration of the beauty, power, and colors of nature. And, certainly, you'd be right. But only to an extent. For as Johnson shows us in Necessary Beauty, flowers are as much historical and cosmic records of time and space as they are seasonal markers of growth, blossoming, and decay.
Across a series of ink, watercolor, and acrylic on linen works that span from the intimate to the immersive, Johnson invites viewers to explore the intersections between science and nature. On one level, each piece is an essay on article physics, mapping the fragmentations and journeys of subatomic decay. But rather than immerse us in scientific language – quarks and gluons, photons and protons – Johnson takes a different approach. Anchoring time through references to the Cambrian Explosion, a period during which we saw the greatest diversification of life ever witnessed on earth. Now, as Johnson shares, our fundamental existence depends on the variation that ties itself back to this moment. The natural forms and flowers that attract pollinators, the lure of beauty that entices the species that then sustain most of the life on Earth.
More subtly, Johnson invites us to consider how we understand and experience nature. Her titles, seemingly simple, are riddles. Her backyard roses may well be one of the thousands of species of wildflowers in the U.S., or vice versa. And it is here that her works fully reveal their subtleties, their special ability to entice, educate, inform, and express. Each linen surface is a support for multiple shared and similar timelines of fragmentation and decay, capturing fleeting moments of beauty in perpetuity in intimate, small-scale works like Ghosts In Common – Cambrian Explosion – Subatomic Decay Patterns and Sunflowers 1. Few flowers track time like the sunflower, simultaneously expressing optimism from blossom to seed, being and giving life depending on state, shifting from delicate petals against a bright center (hence the name). Just as few flowers have captivated modern and contemporary artists – think Van Gogh, Monet, O'Keeffe, or Warhol – for reasons that Johnson brings so definitively to the fore.
Then, in works like Ghosts In Common – Necessary Beauty – Subatomic Decay Patterns and Wildflowers 11, she immerses us in vast expanses, painted surfaces where grounds become space. This understanding, this recognition, Johnson's willingness to leave her ground untouched, is the perfect metaphor for what she shares. She makes the invisible visible, brings the fragmentation and decay of what is unseen but foundational metaphorically to every surface. In the spaces between flowers, the spaces mapped by subatomic tracks, we see mirrors that shift from the molecular to the manifest, then the metaphysical. Although unspoken, Johnson's subatomic particles become stand-ins for pollen lifted and shifted from plant to plant, flower to flower, tree to tree. These, too, we don't see, but we're aware of their significance and value.
It's okay to view Johnson's paintings in Necessary Beauty as expressions of the aesthetic, as many may choose to do. But, for just a moment, consider that her works are as much about the necessity – if not more – than they are about the beauty. Johnson understands there cannot be one without the other. Then, she invites us to see this beauty from the necessity that is her perspective. Necessary beauty indeed.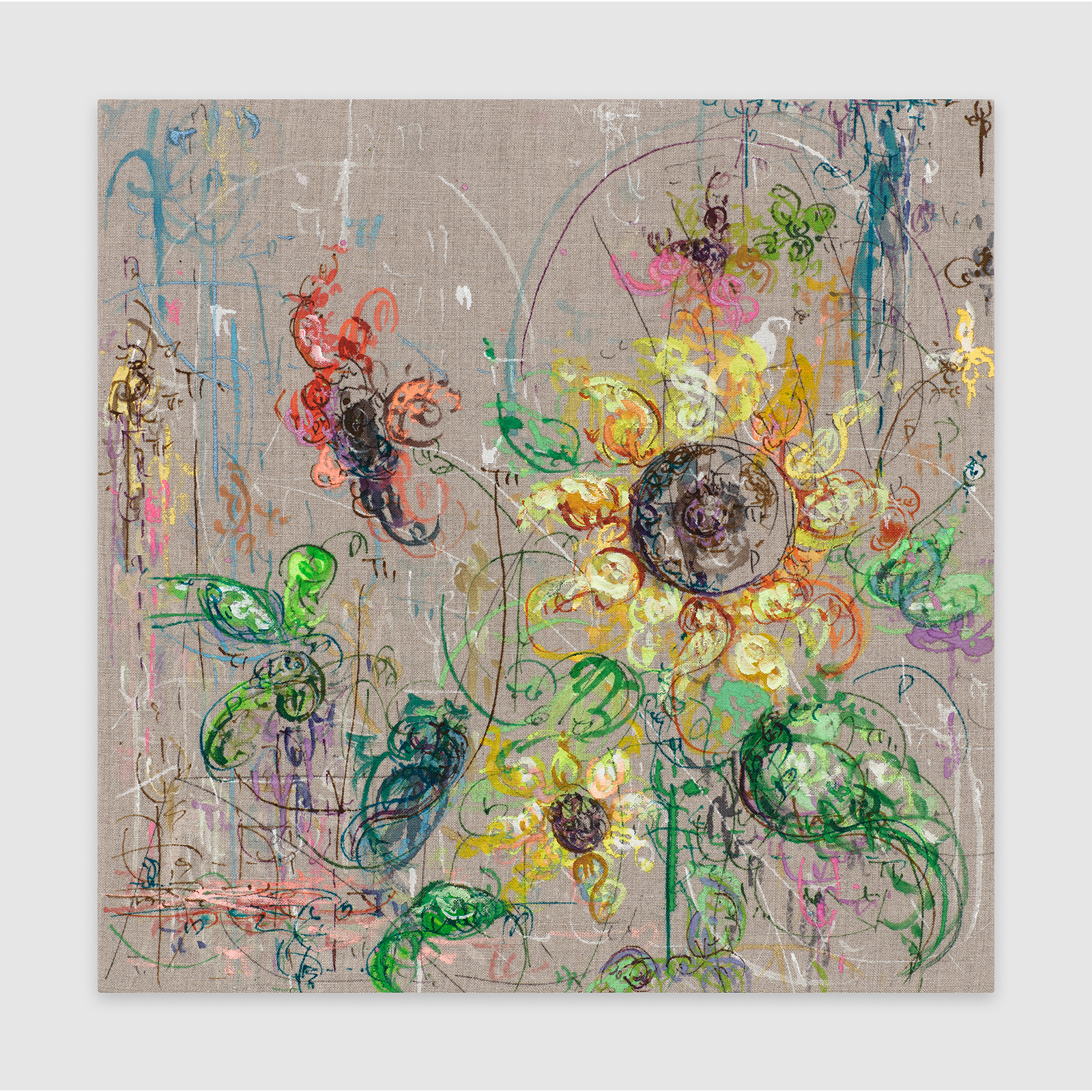 Kysa Johnson
Ghosts In Common – Cambrian Explosion – Subatomic Decay Patterns and Sunflowers 2
12 x 12 x 1.5 inches
Ink, Watercolor and Acrylic on Linen
2023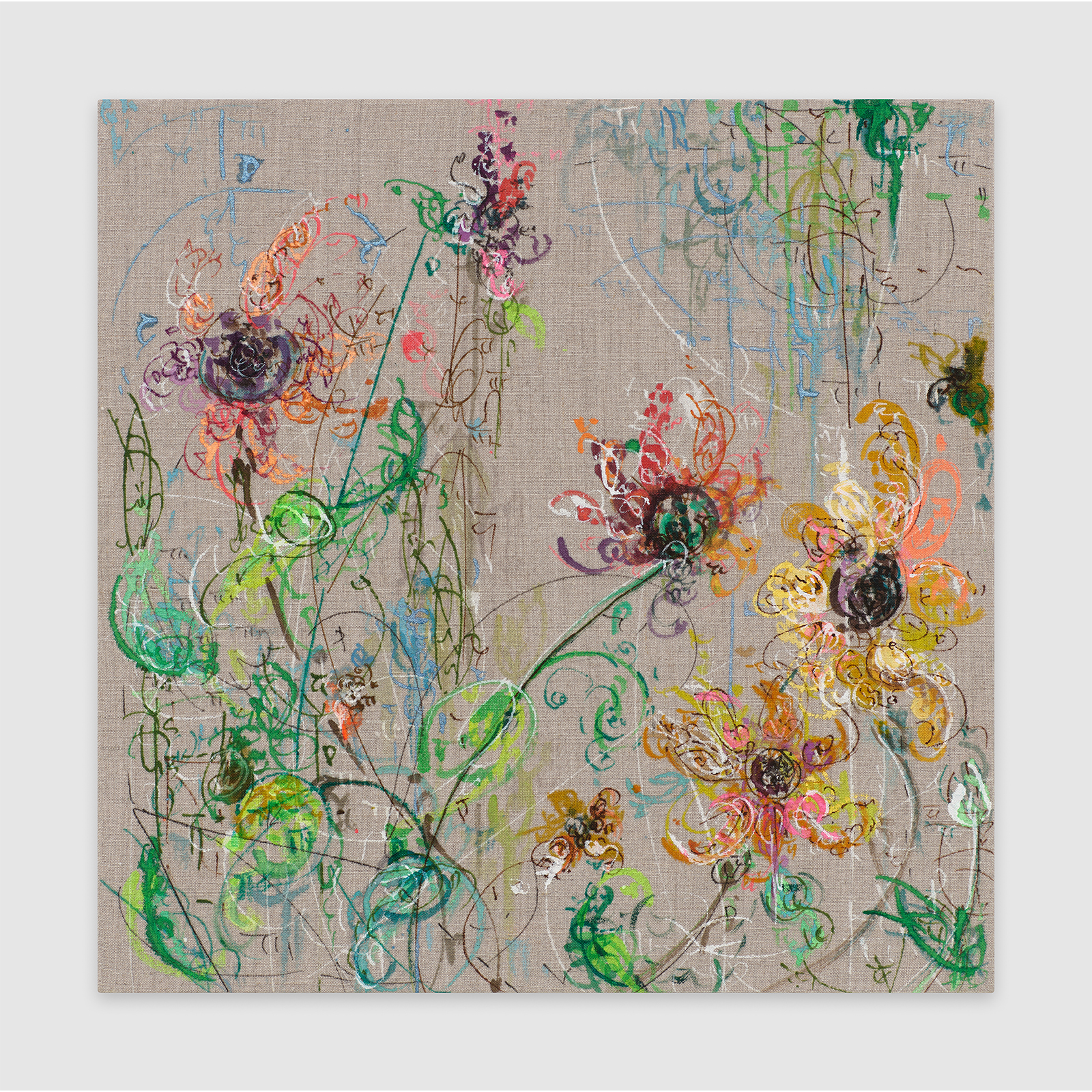 Kysa Johnson
Ghosts In Common – Cambrian Explosion – Subatomic Decay Patterns and Sunflowers 1
12 x 12 x 1.5 inches
Ink, Watercolor and Acrylic on Linen
2023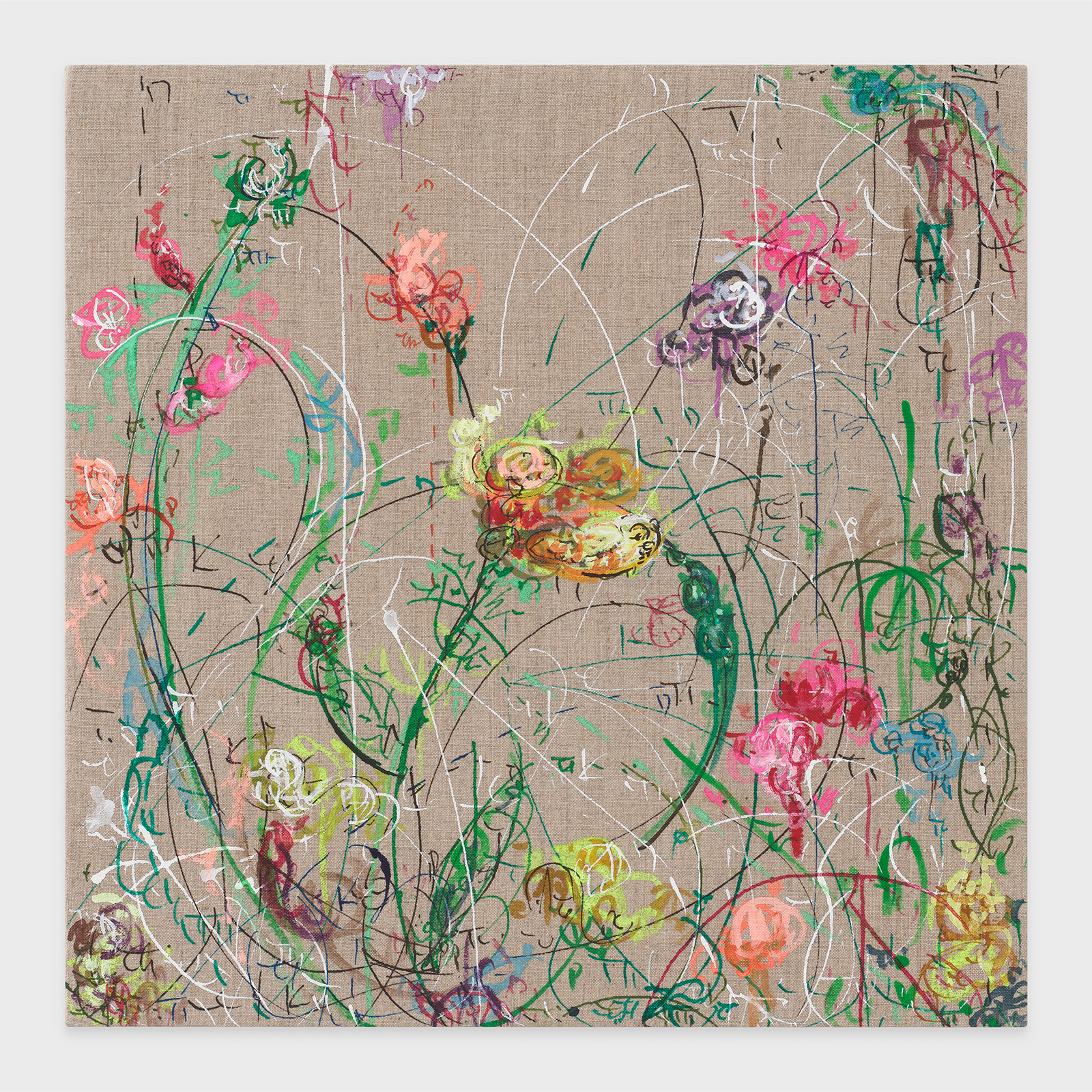 Kysa Johnson
Ghosts In Common – Cambrian Explosion – Subatomic Decay Patterns and Wildflowers 14
12 x 12 x 1.5 inches
Ink, Watercolor and Acrylic on Linen
2023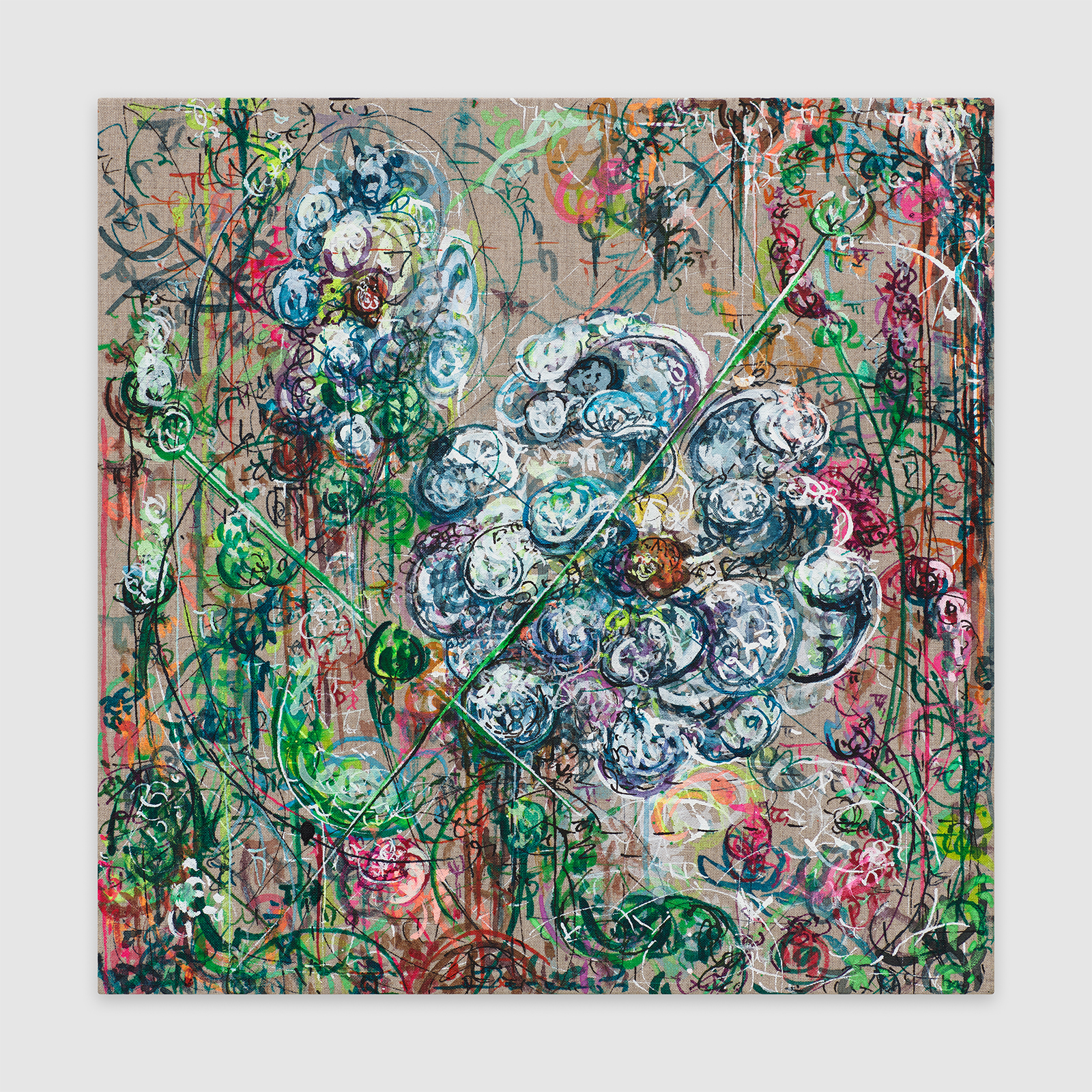 Kysa Johnson
Ghosts In Common – Cambrian Explosion – Subatomic Decay Patterns and Backyard Roses 1
12 x 12 x 1.5 inches
Ink, Watercolor and Acrylic on Linen
2023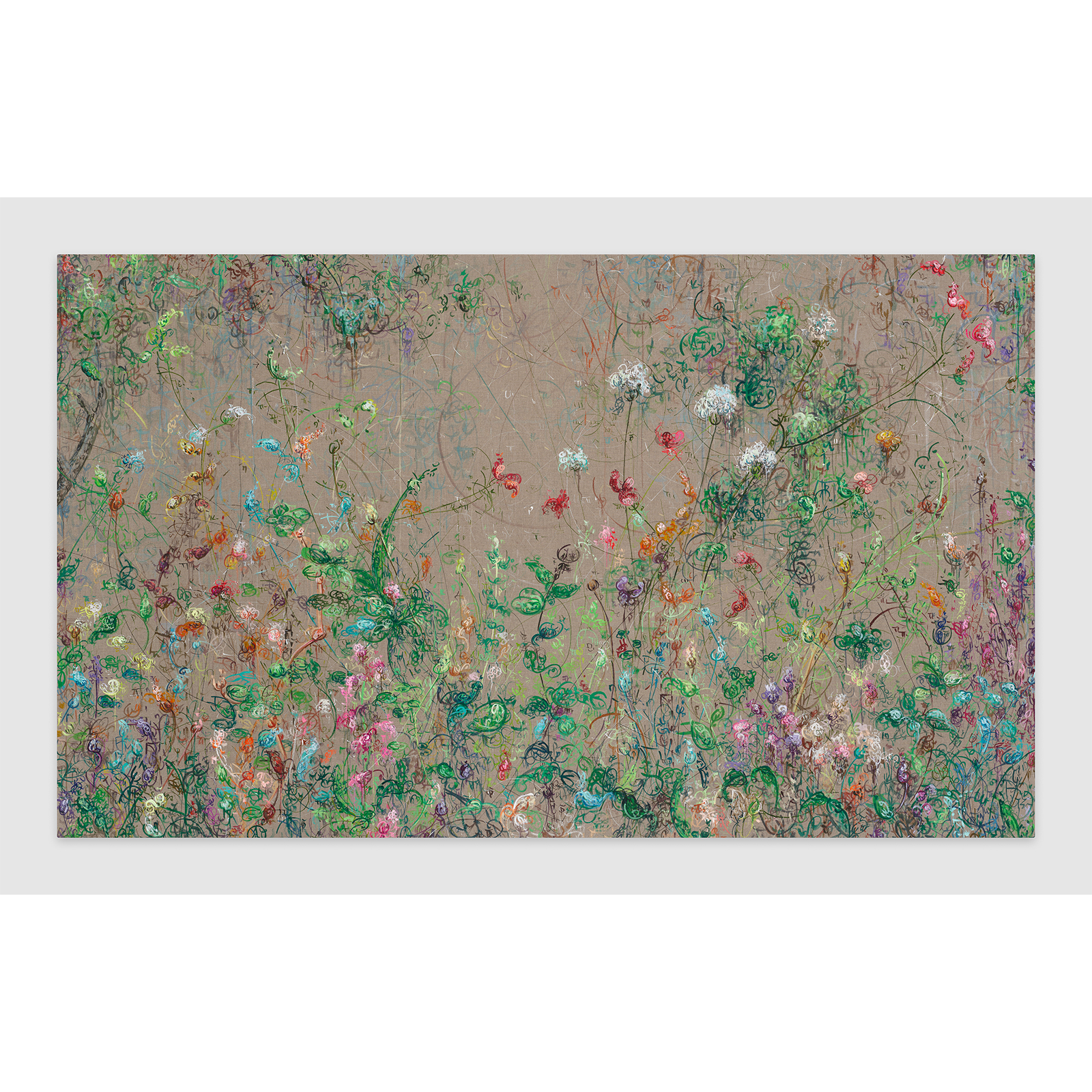 Kysa Johnson
Ghosts In Common – Necessary Beauty – Subatomic Decay Patterns and Wildflowers 11
43 x 77.5 inches
Ink, Watercolor and Acrylic on Linen
2023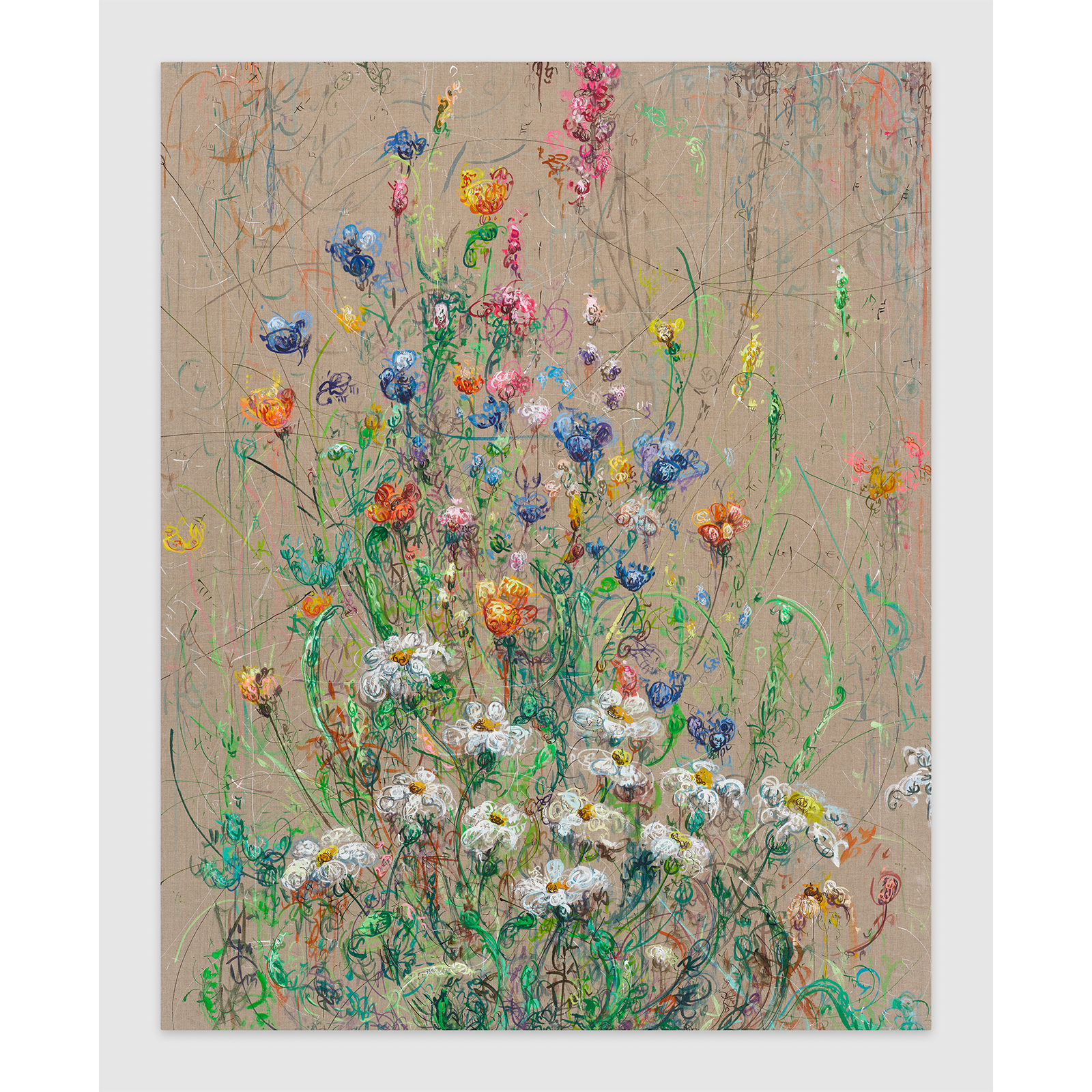 Kysa Johnson
Ghosts In Common – Necessary Beauty – Subatomic Decay Patterns and Wildflowers 12
61 x 48 x 1.5 inches
Ink, Watercolor and Acrylic on Linen
2023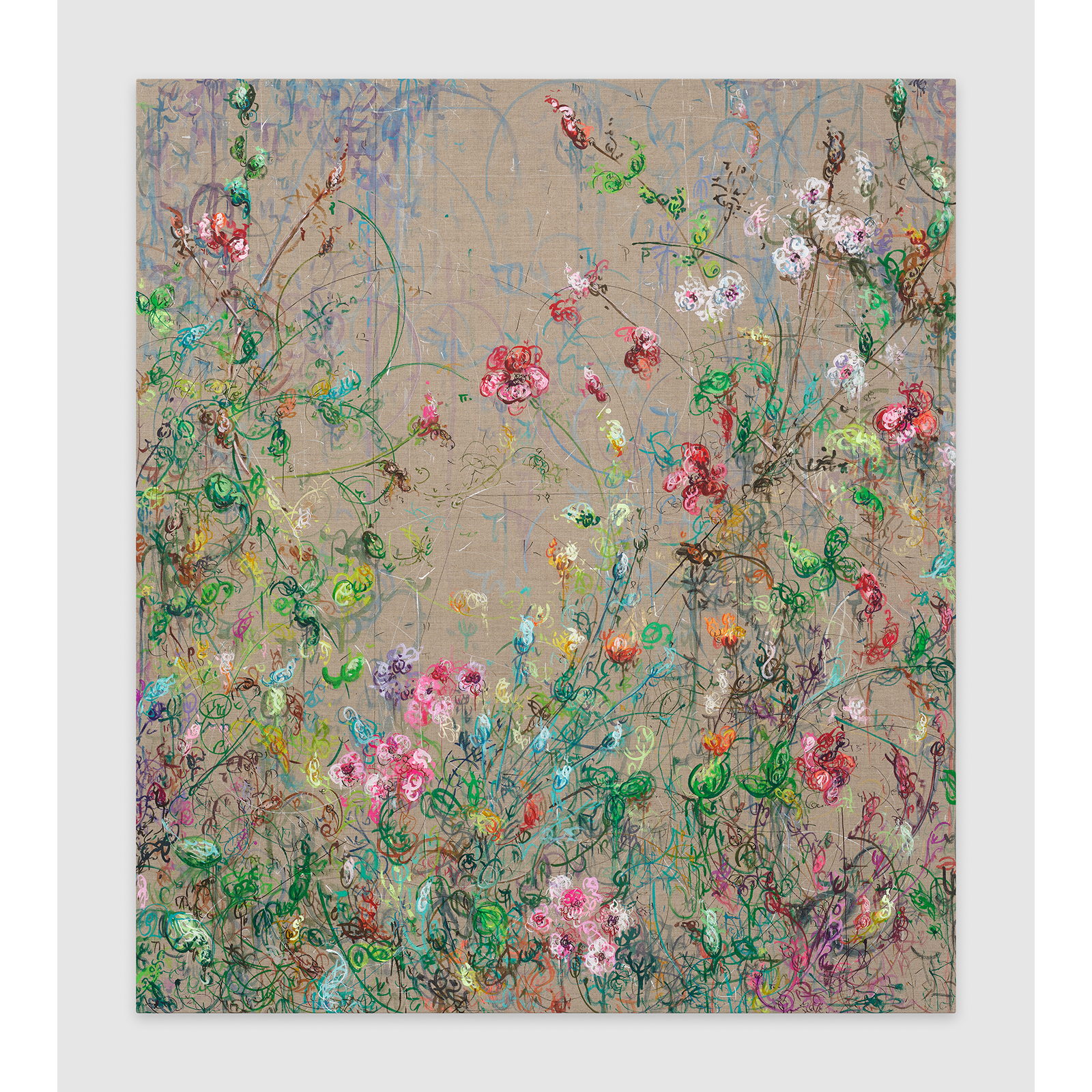 Kysa Johnson
Ghosts In Common – Necessary Beauty – Subatomic Decay Patterns and Wildflowers 13
45.75 x 40 x 1.5 inches
Ink, Watercolor and Acrylic on Linen
2023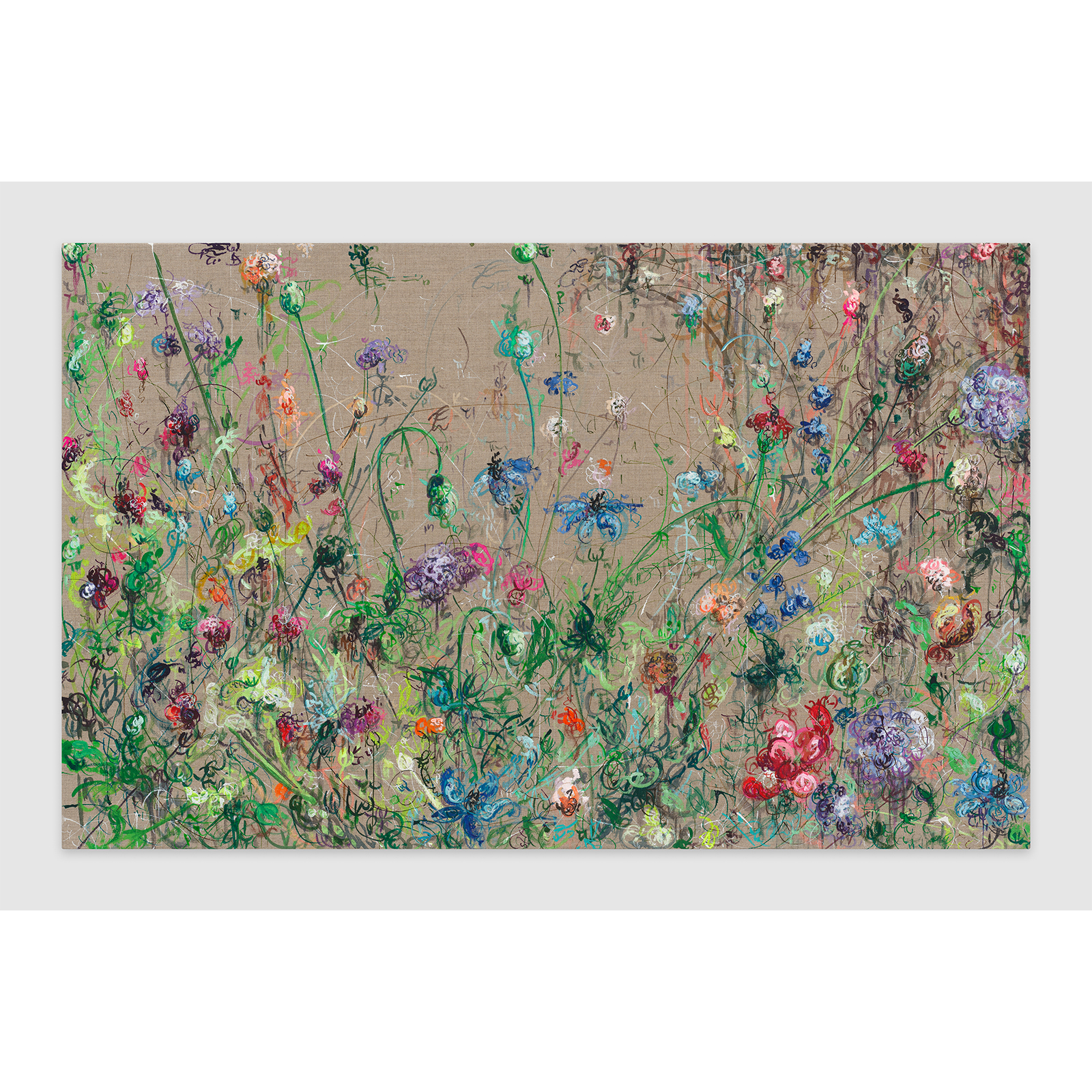 Kysa Johnson
Ghosts In Common – Necessary Beauty – Subatomic Decay Patterns and Wildflowers 14
25 x 40.25 x 1.5 inches
Ink, Watercolor and Acrylic on Linen
2023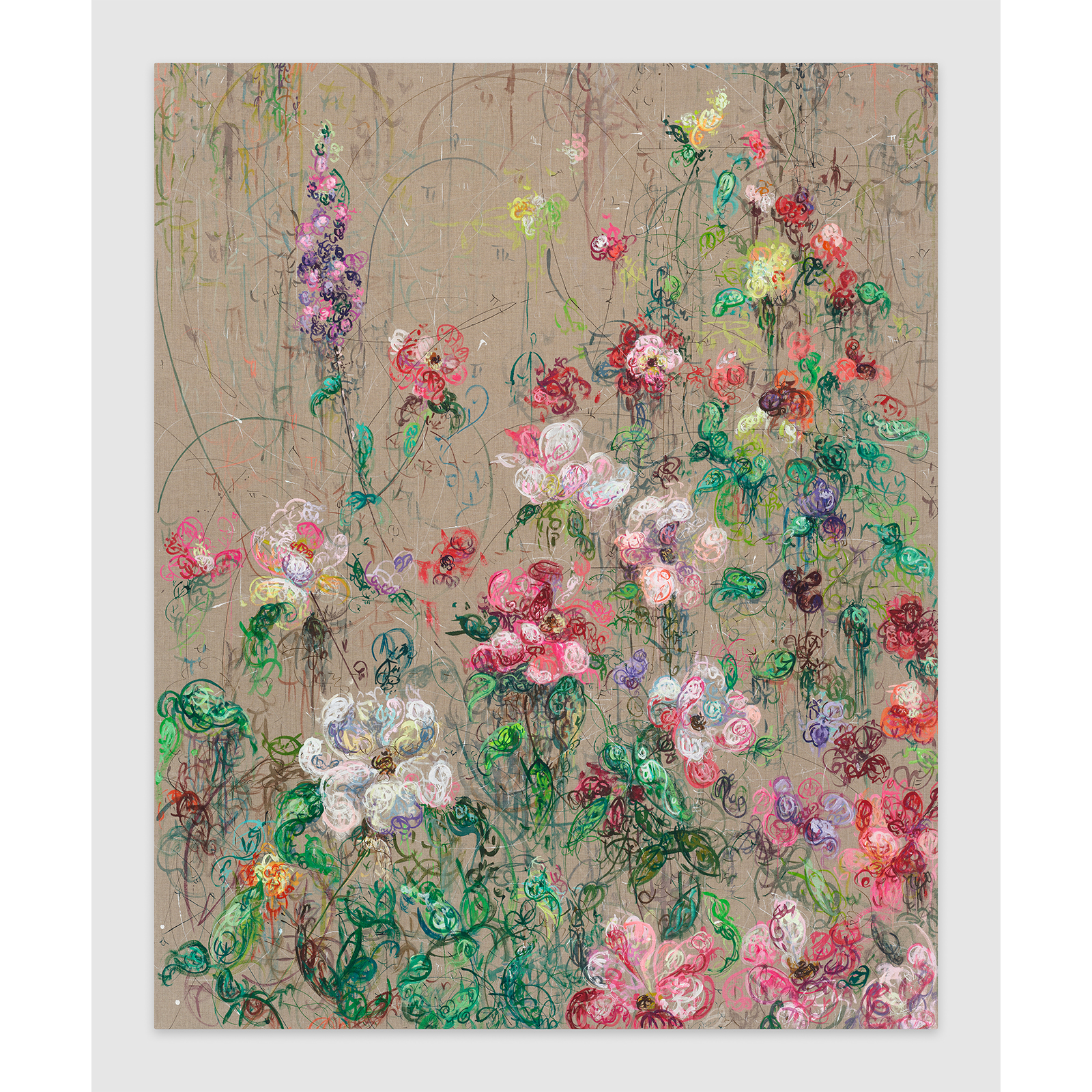 Kysa Johnson
Ghosts In Common – Necessary Beauty – Subatomic Decay Patterns and Roses 7
61 x 48 x 1.5 inches
Ink, Watercolor and Acrylic on Linen
2023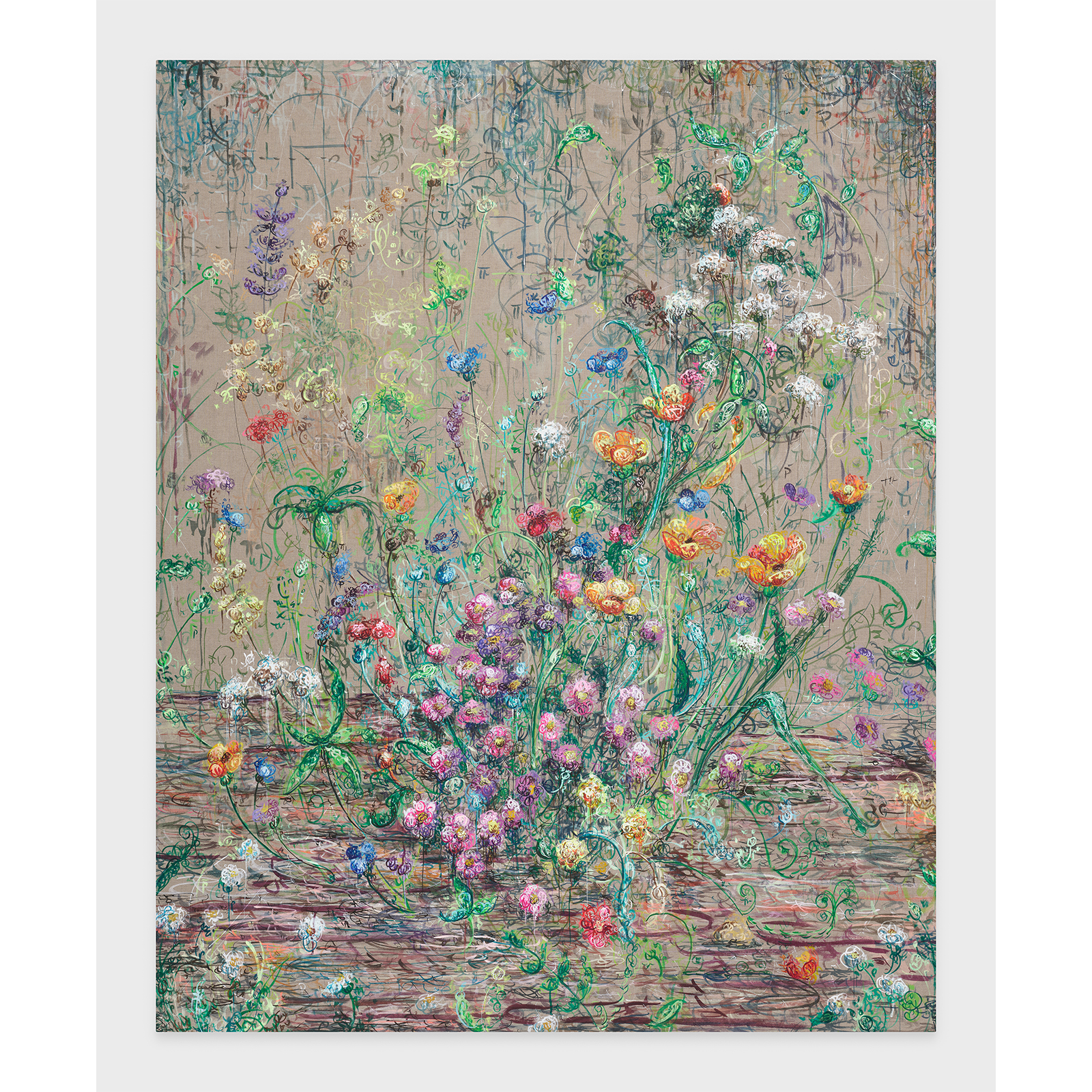 Kysa Johnson
Ghosts in Common – 1348/2022 (Fill Your Empty Sun With Flowers) – Subatomic Decay Patterns and Wildflowers 2
78 x 63 inches
Ink, Watercolor and Acrylic on Linen
2023