Cruz Ortiz's sol and soul
Few things strike fear in hearts as quickly as mentions of the supernatural, particularly when anchored within centuries of knowledge, belief, and practice. Embodied with powers beyond the grasp of mere mortals and unbelievers, the shaman – whether a practitioner of light, a curandero, or one of darkness, a brujo – inhabits a peculiar place. The unknowing see nothing, the knowing, everything.
In many ways, Cruz Ortiz's paintings are the perfect map for this duality. Anchored in the familiar – portraiture – Ortiz challenges viewers to move beyond the familiar, into uneasy, colloquial imagery that meshes art history, identity, spiritualism, and slang, for a joyride into mestizo culture.
Take Looking for a pinche signal on canvas, where a man clutching a phone is crowned by a cell-tower hat and what look like satellites streaking across the sky. Add in the third eye, and you get an immediate doubling, one being knowledge, the other jitter and stutter. Do a simple translation, and the work is even more sublime. Sure, pinche translates as lousy, but use the more colloquial meaning and you get fucking instead. That's a quick trip from frustration to irony.
Or pause for a moment to consider the serpent in Olivia picked up the snake, in which a green creature floats suspended in the air while a pair of cardinals (another nod to the presence of those who are absent) rest on her opposite side.
Ortiz's ability to map these distinctions and misinterpretations is masterful. There's Auto-Retrato con la muerte y los flores de Terlingua (or Self-portrait with Death and the flowers of Terlingua,) with nature morte's metaphor par excellence, the skull. Here, though, the skull is object, prediction, and reflection, as much a representation of thinking about death as it is of its universality. Add in the flowers (perhaps the endangered Terlingua Creek Cat's-Eye), and you've doubled down on death literally and figuratively.
Contrast death with arbol del vita, the tree of life, in another self-portrait, and you can see his tendency toward doubling even more clearly. Male and female, death and life, waking and dreaming. But for an artist who so subtly mines art history, it's the details where Cruz really shines. That streak of color in in Auto-retrato con black lengua feels as if it burns like an ember; there's the half-full bottle in the foreground of Jacobo y Edward at the baile, but what really stands out is how someone's literally wearing their heart on their sleeve. Then, there's that repetition of pointed yokes in like Cumbia diamond ojo.
Perhaps the easiest way through Ortiz's work is the one you find the most comfortable. There's his unique take on portraiture and figuration that extends our understandings of representation. There's the allegorical, seen most clearly at the intersections where work and title most closely align. And there's the far more alluring, far more enticing exploration of the mystical, the universal, the metaphysical, and the personal. In many ways, Ortiz's works are like painterly snapshots of passing through, of fleeting moments captured for eternity. As he explains, "these paintings seem to act as ruptures that evolve into un cosmico fenómeno- — I believe only painting can capture this." Painting may well be the only way to capture these origins. We simply must push more deeply into and onto the surfaces of Ortiz's works to share the phenomenon.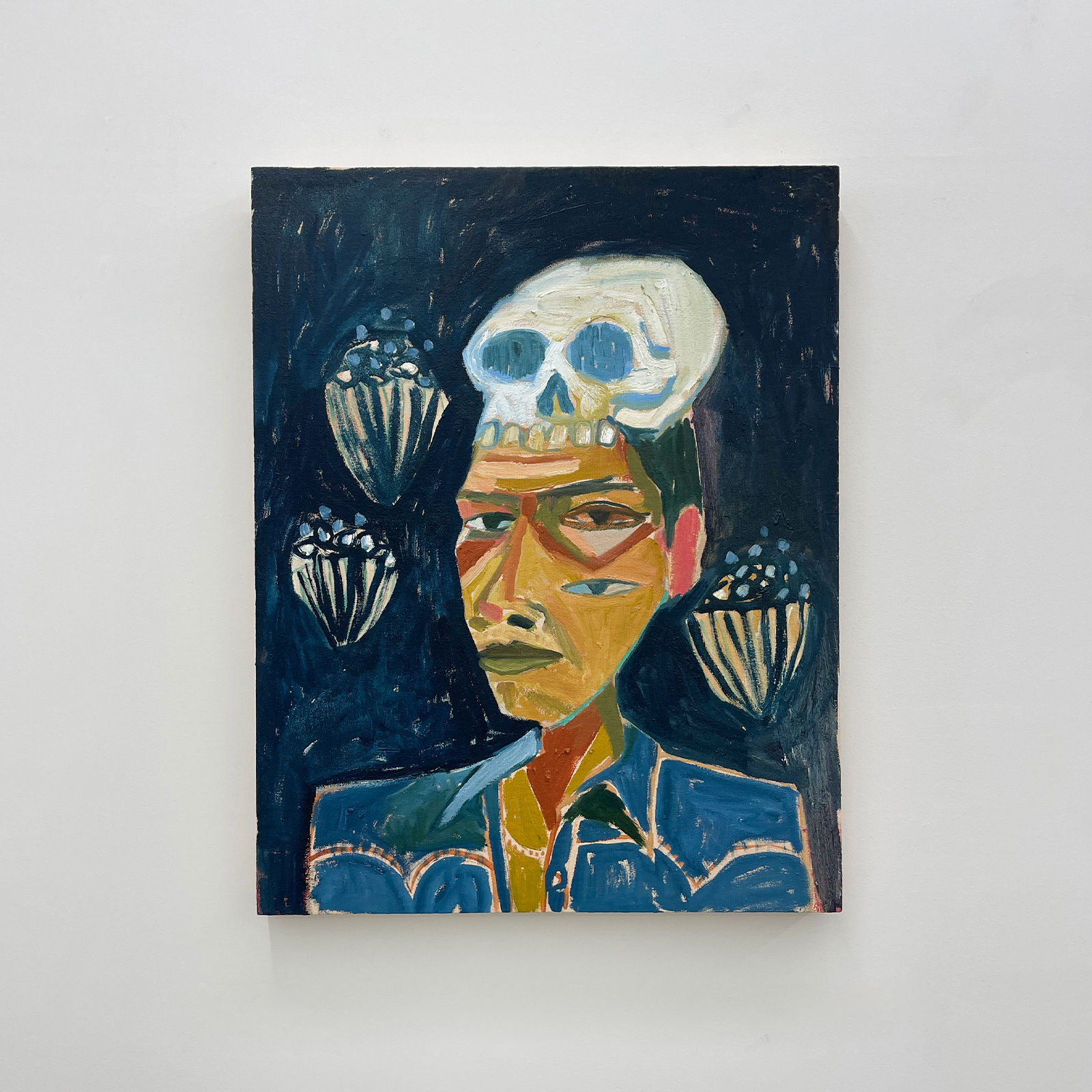 Cruz Ortiz
Auto-Retrato con la muerte y los flores de Terlingua
22 x 28 inches
Oil and wax on canvas
2023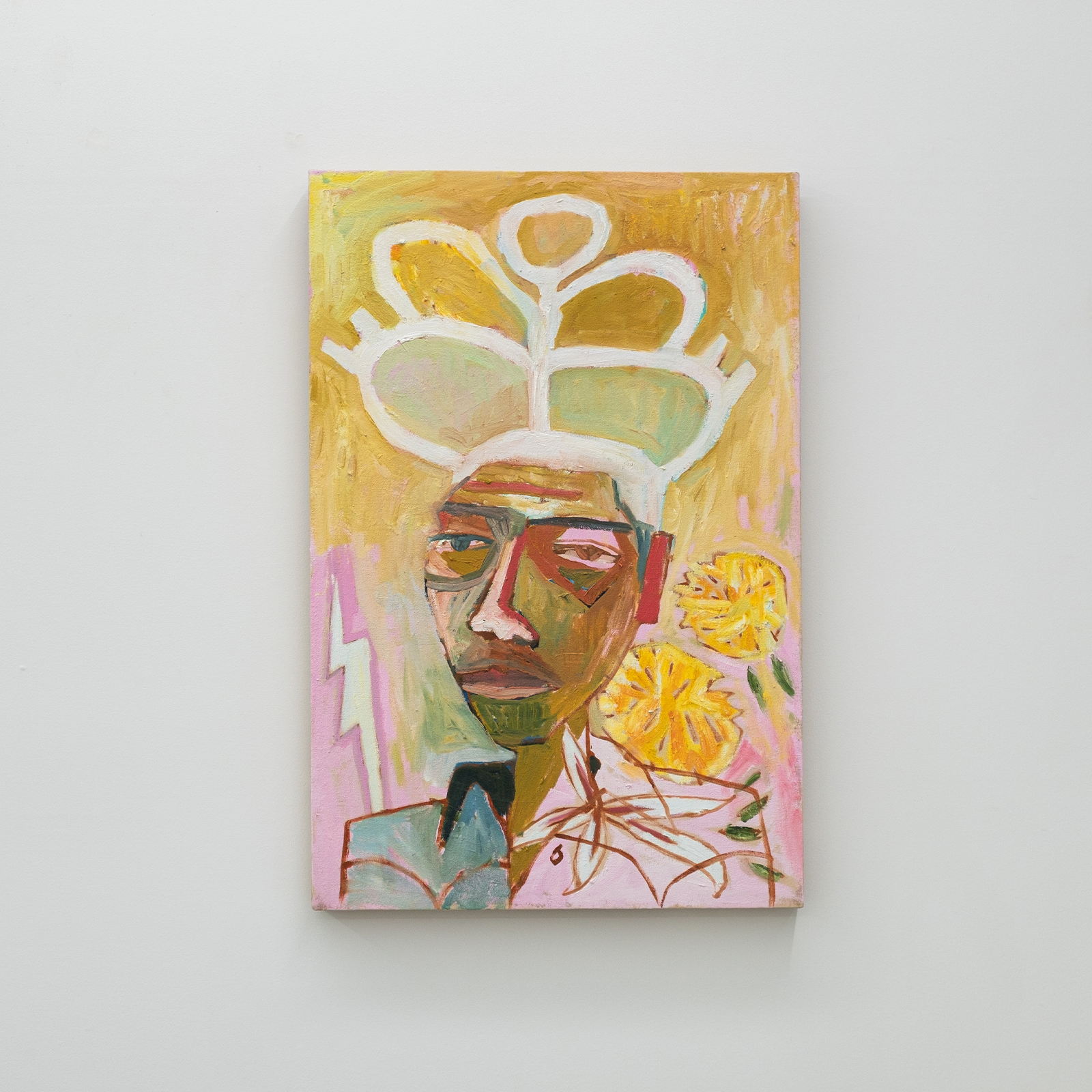 Cruz Ortiz
Self-portrait con arbol del vida (el rey)
20 x 30 inches
Oil and wax on canvas
2023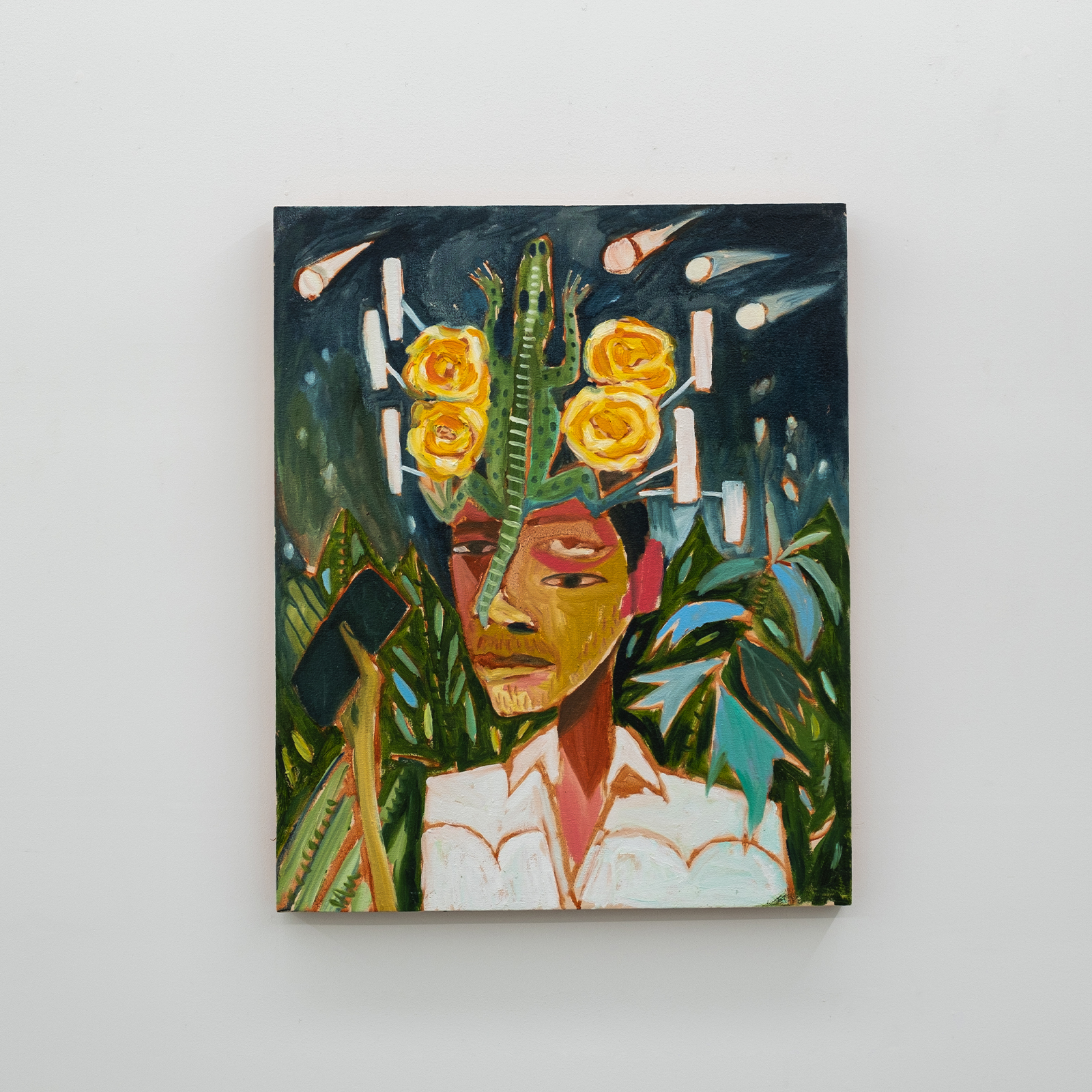 Cruz Ortiz
Lookin' for a pinche signal
32 x 26 inches
Oil and wax on canvas
2023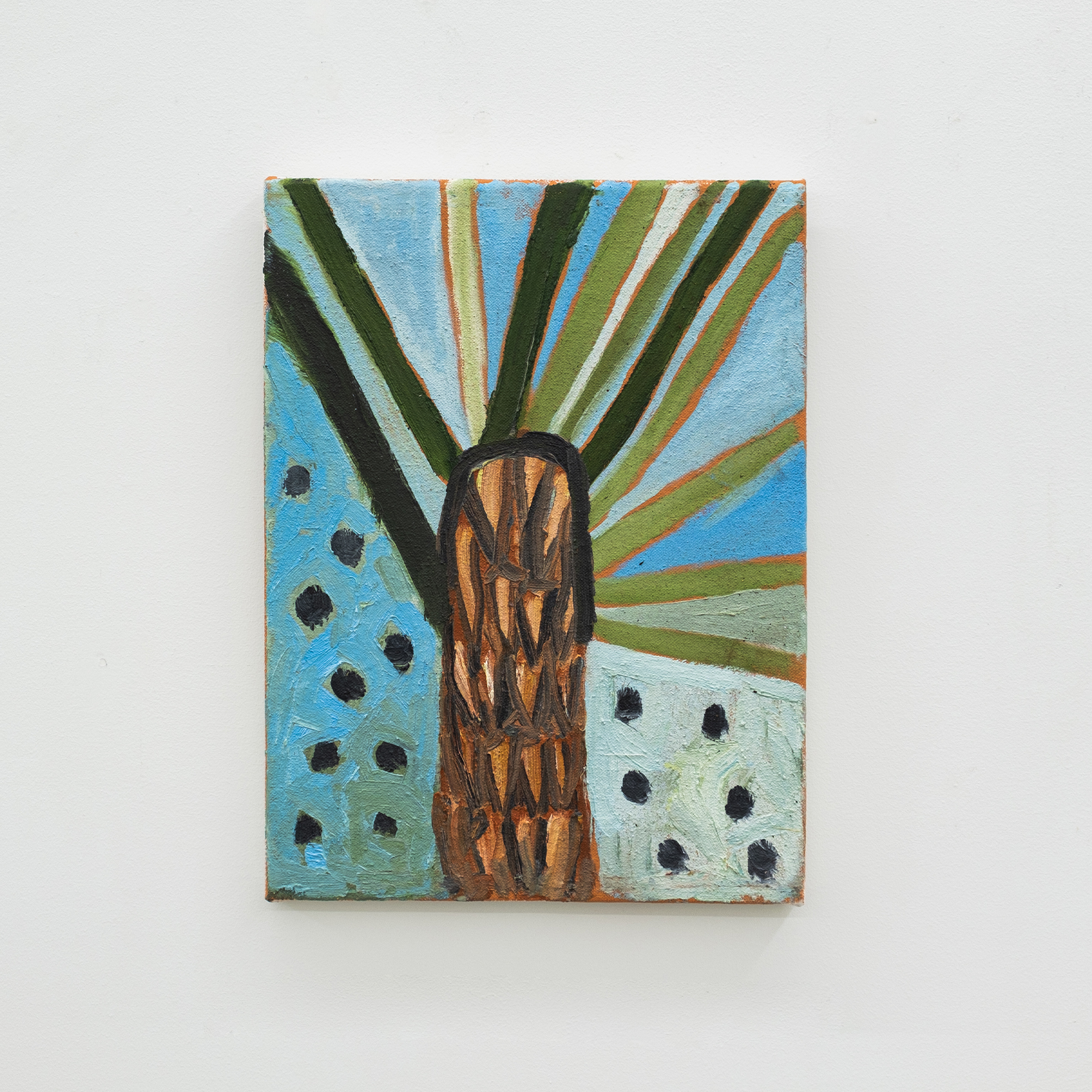 Cruz Ortiz
Yucca con Apache Tears
12 x 16 inches
Oil and wax on canvas
2023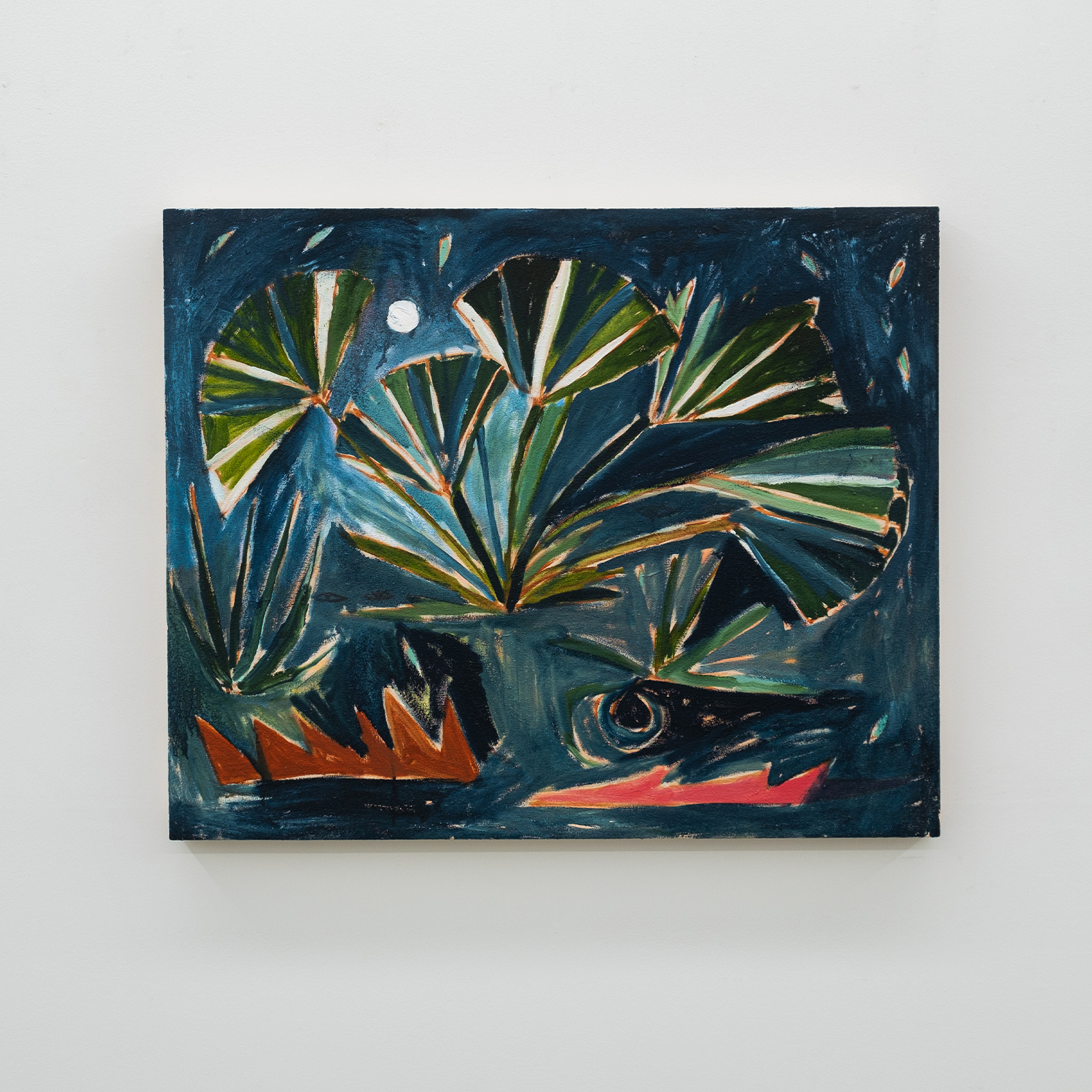 Cruz Ortiz
Noche de shadows
26 x 32 inches
Oil and wax on canvas
2023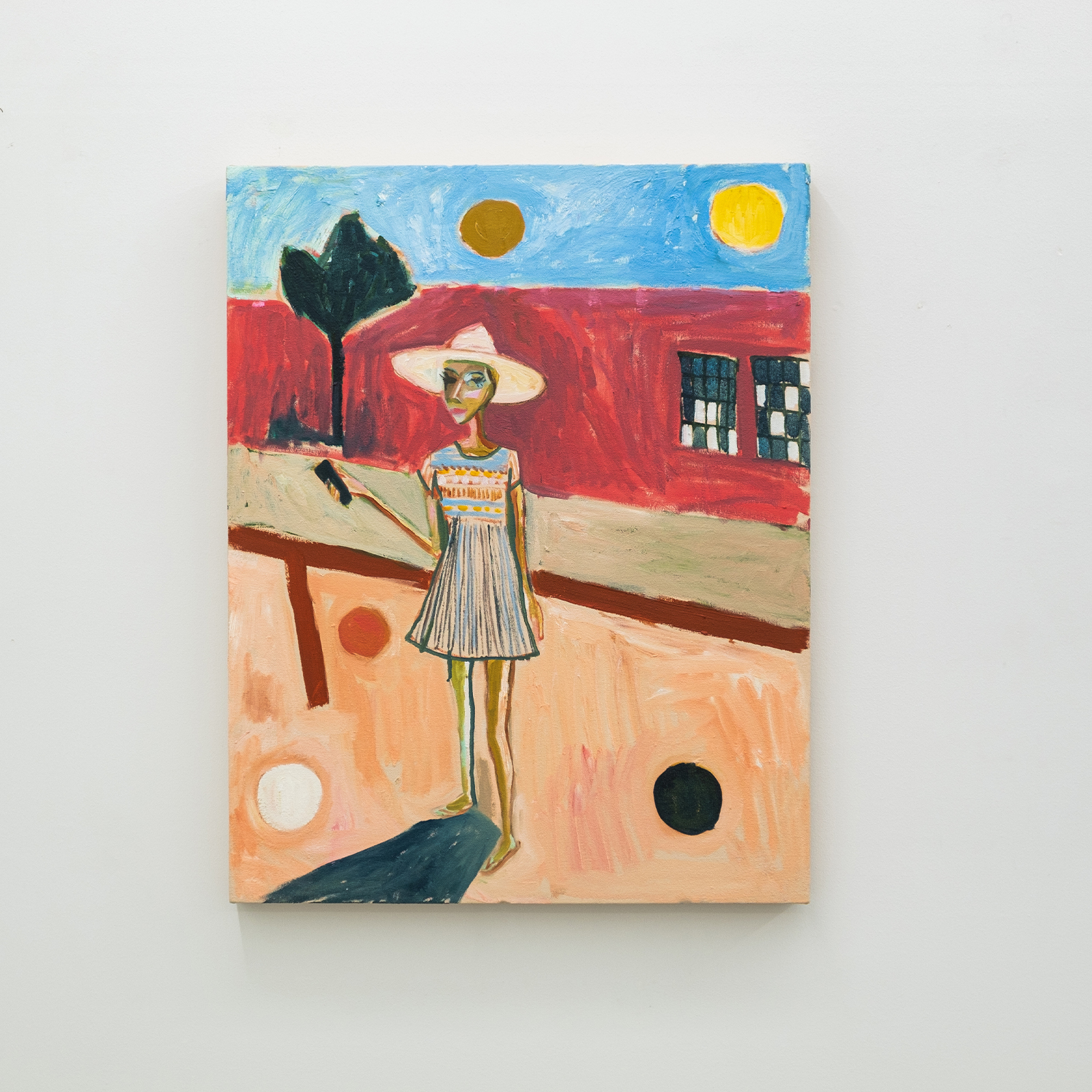 Cruz Ortiz
Olivia between the suns
22 x 28 inches
Oil and wax on canvas
2023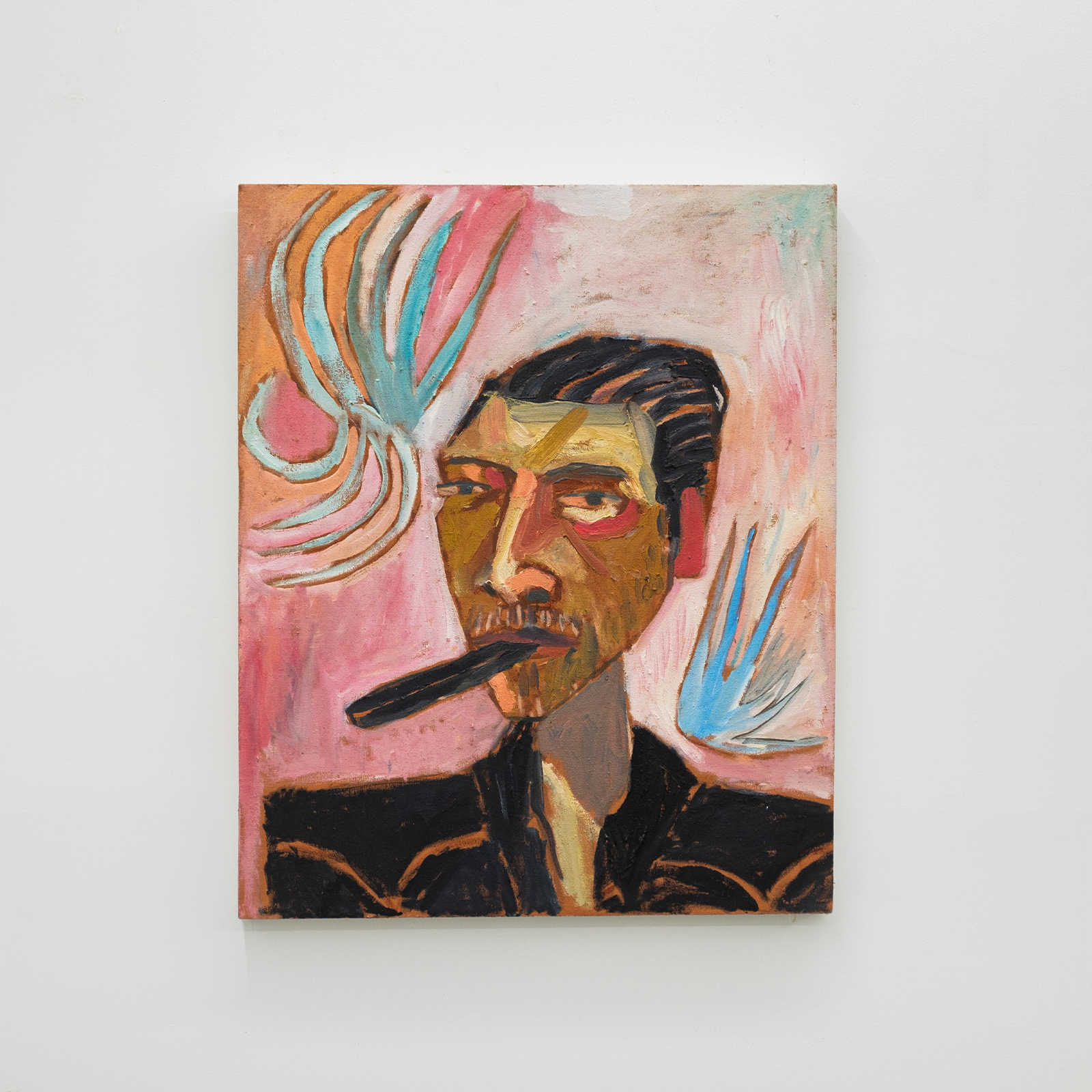 Cruz Ortiz
Auto-retrato con black lengua
26 x 32 inches
Oil and wax on canvas
2022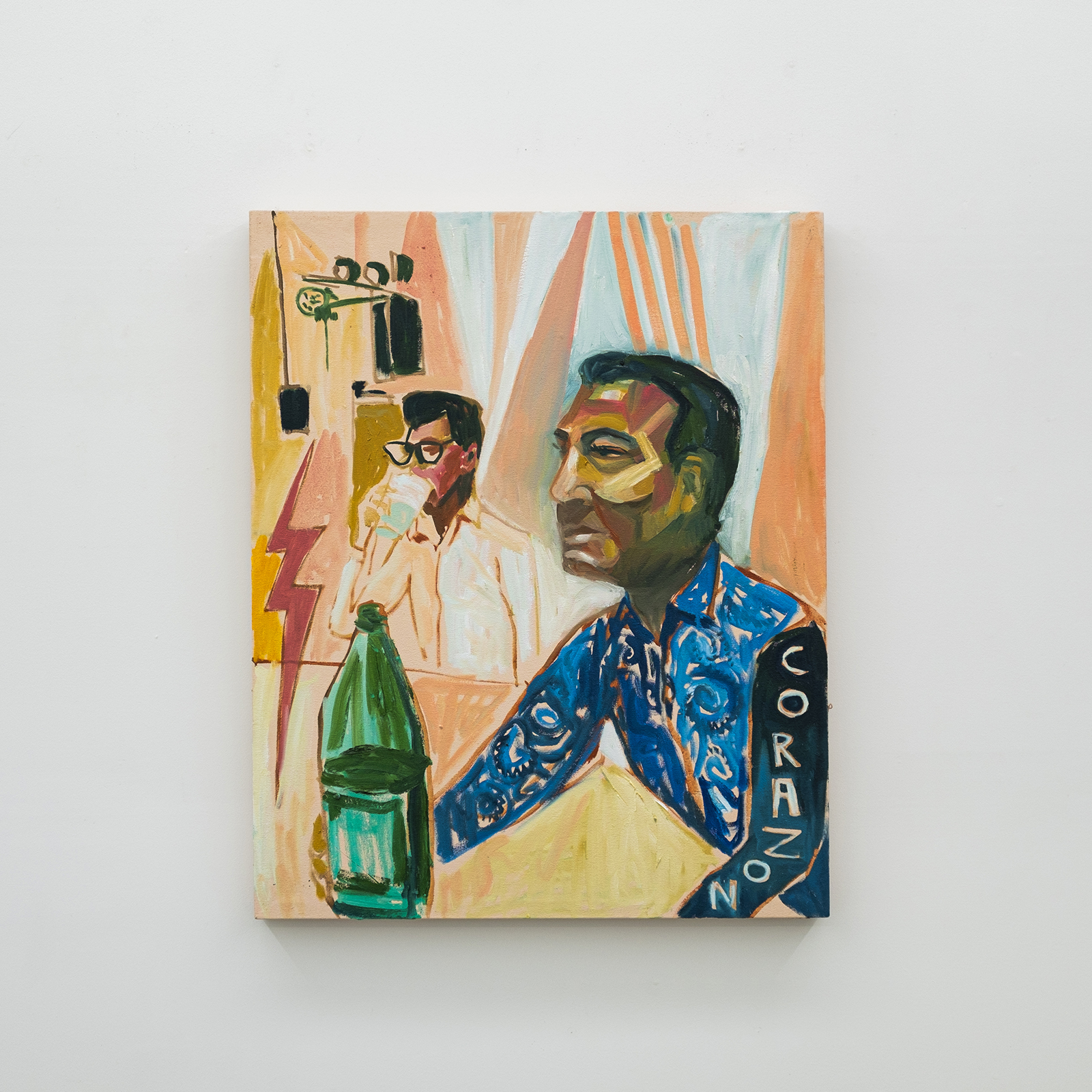 Cruz Ortiz
Jacobo y Edward at the baile
26 x 32 inches
Oil and wax on canvas
2023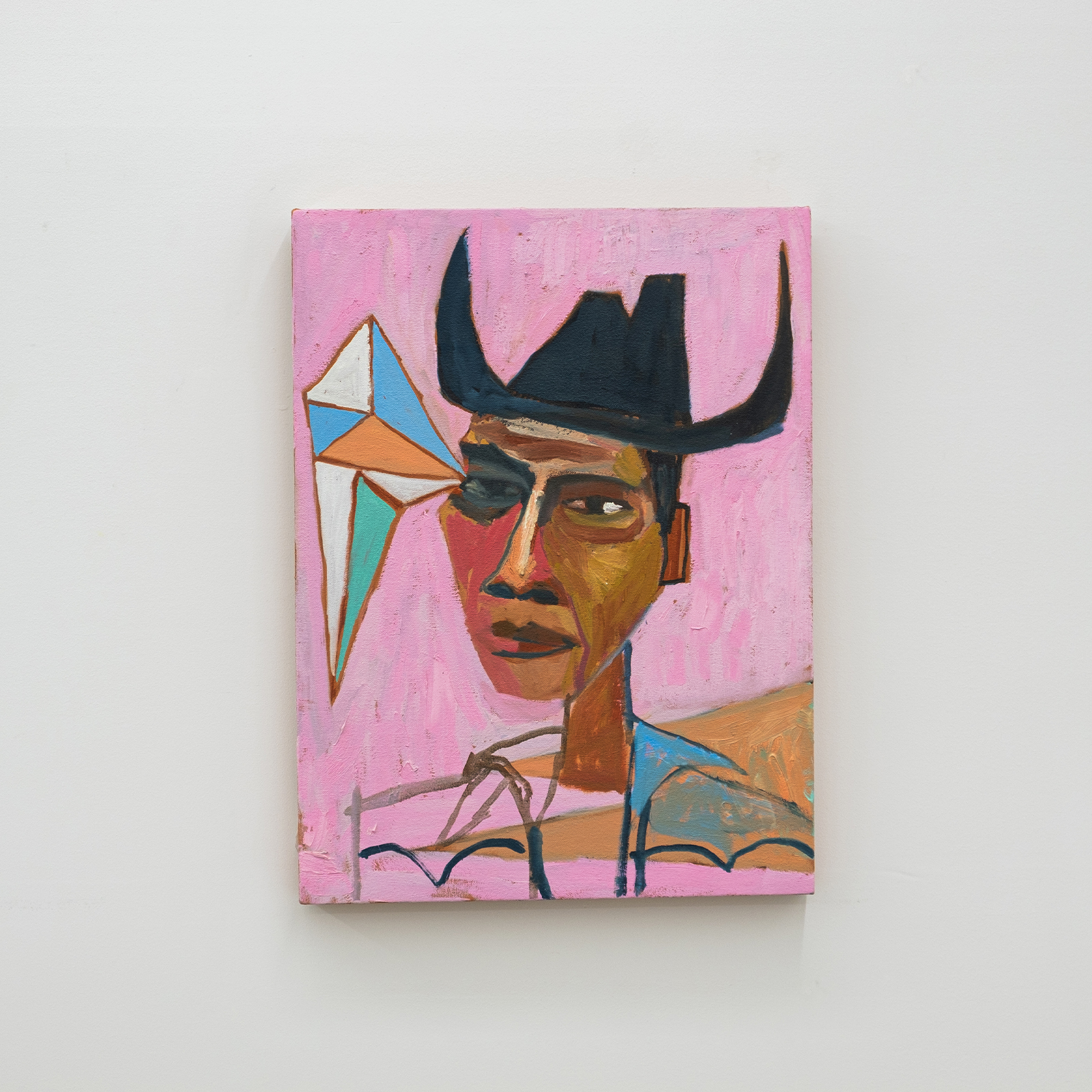 Cruz Ortiz
Cumbia diamond ojo
24 x 18 inches
Oil and wax on canvas
2023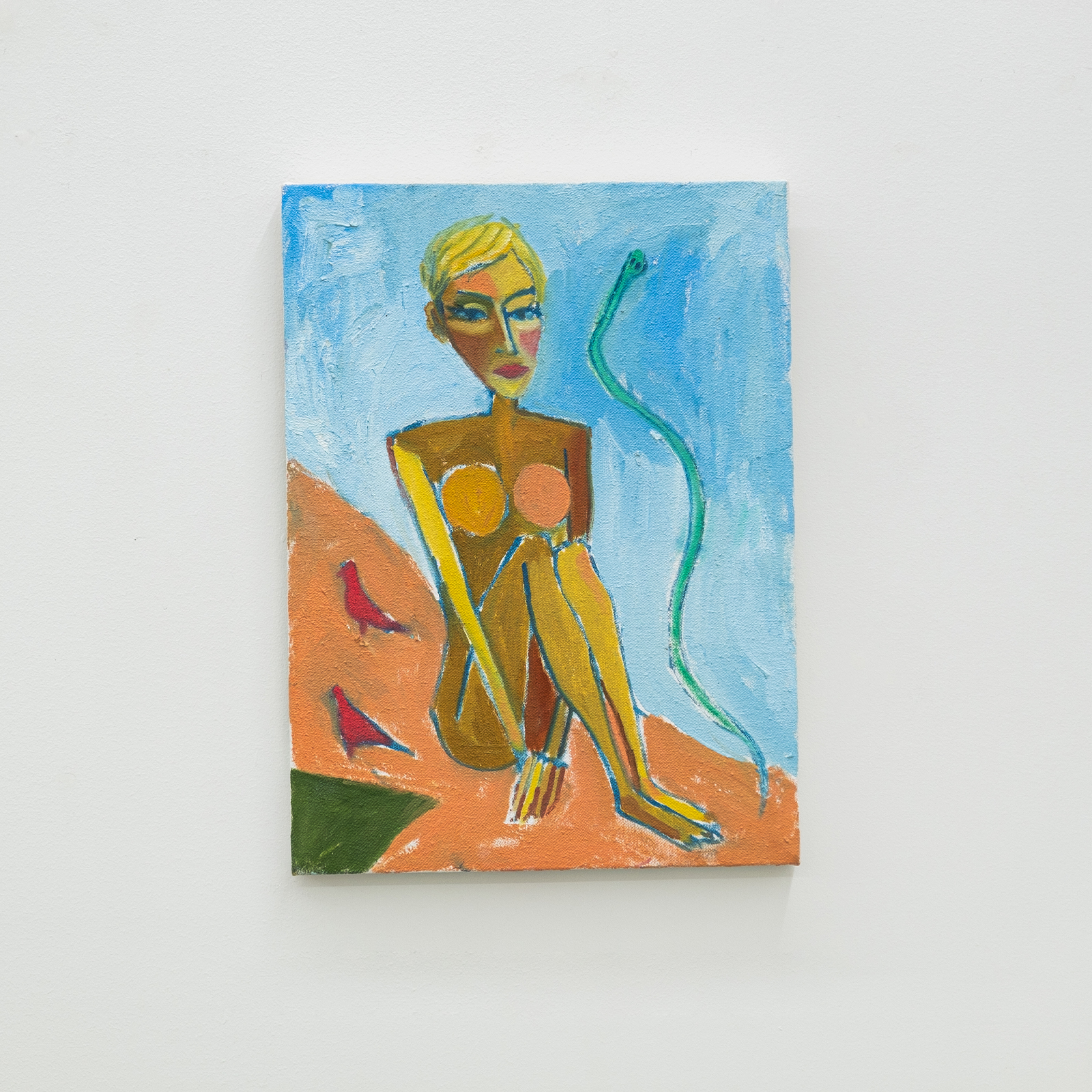 Cruz Ortiz
Olivia picked up the snake
16 x 20 inches
Oil and wax on canvas
2021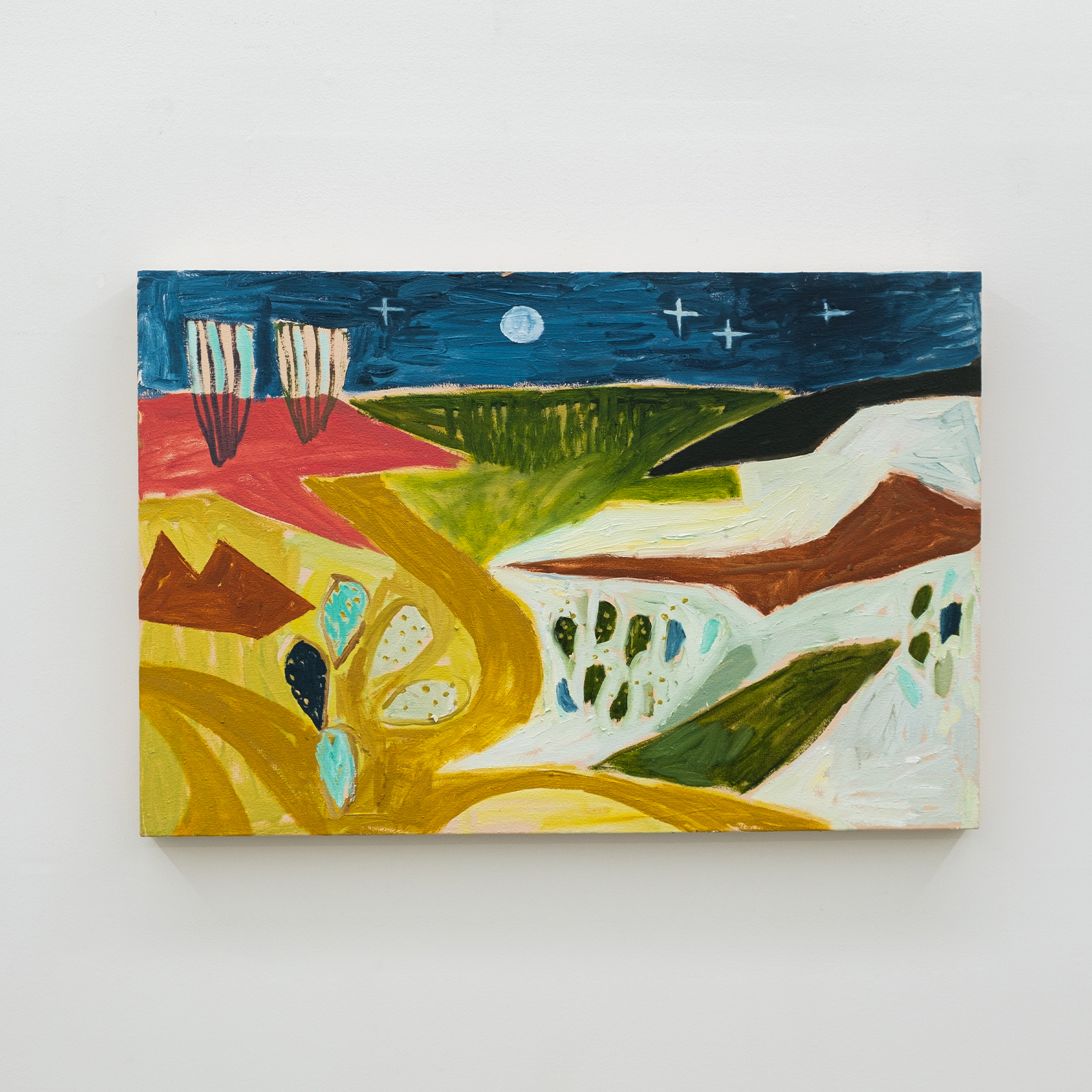 Cruz Ortiz
Pecos River dream
20 x 30 inches
Oil and wax on canvas
2023